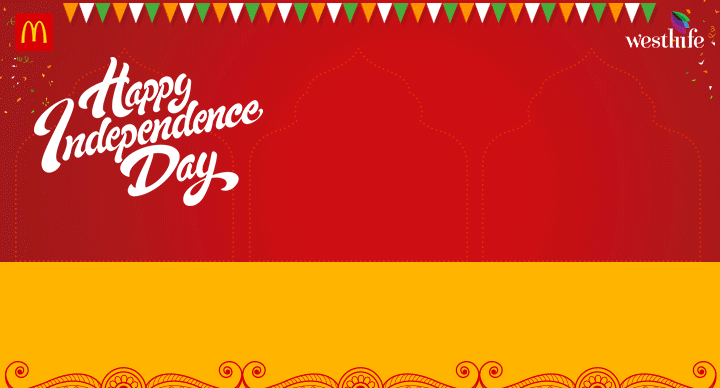 It's India's 75th Independence Day—just the occasion to celebrate our country's bounty of flavours, palates, and ingredients, among other glories.
It is this diversity that we, at McDonald's, are proud to experience.
Not only are more than 99% of the ingredients in your favourite McDonald's foods sourced from across the nation (we've set up an entire local supply chain here to make this happen). We also aim to keep serving local palates by combining Indian flavours with international techniques.
Today, we train our focus on a few of our "glocal" Indian burgers. Together with our other McDonald's superstars, they're the best way of savouring the melting pot of flavours called India.
McAloo Tikki Burger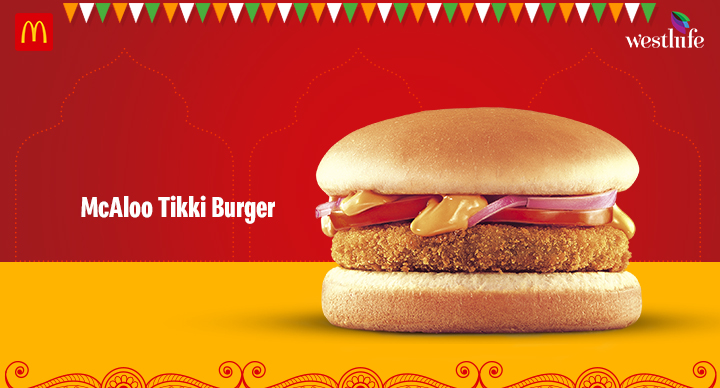 Our first made-in-India burger was this potato-and-pea-patty-based bestseller, introduced in 1998. Its carefully crafted recipe, which includes McDonald's iconic Tom Mayo sauce, is a significant factor in making this flavourful fusion feast a crowd favourite. Its uniqueness has deemed it a must-have even for international travellers visiting India!
McSpicy Paneer Burger
Speaking of desi burgers, how can we not have a paneer one in our list of McDonald's foods? That's why we rolled out this hottie in 2011. It took us two years to perfect the McSpicy Paneer Burger. Only after a series of experimentations did we arrive at the spicy, breaded paneer fillet and Tandoori Mayo sauce, which make this burger a nationwide rage.
Veg Maharaja Mac and Chicken Maharaja Mac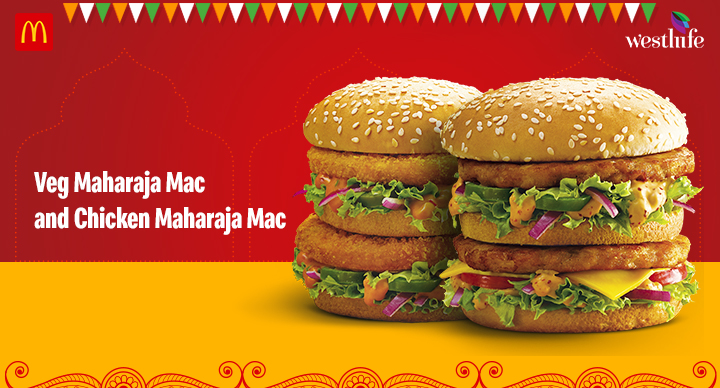 The world-famous Big Mac finds its Indian equivalent in these powerhouse burgers, which stack a mountain of premium local-palate-friendly ingredients (jalapeños, cheese slice, lettuce, and many more) between not two but three burger buns. The Chicken Maharaja Mac, which boasts two sizzling chicken patties, took nine months to come to fruition in 2000. And its double-corn-and-cheese-patty counterpart, a.k.a. the Veg Maharaja Mac, made it to the menu in 2016.
Chicken Kebab Burger
In an ode to a great Indian culinary delight, we launched this flavoursome burger in Hyderabad in 2016 before taking it to other Indian cities. The strategically shaped square kebab patty forms the highlight of this treat, where high-quality minced chicken and exotic spices come together beautifully. One bite, and you'll feel royal instantly.
Dosa Masala Burger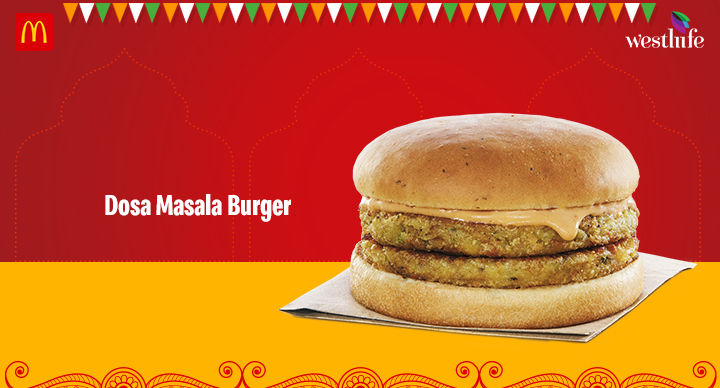 Celebrating a timeless brekkie favourite, we first included the Dosa Masala Burger on our breakfast menu in 2017. The patty here captures the spirit of the masala dosa with its exhilarating potato-and-spice blend. You're sure to love this one!
Get the flavours of India with these spectacular McDonald's foods. Head to your nearest McDonald's or order from the McDelivery website or app.