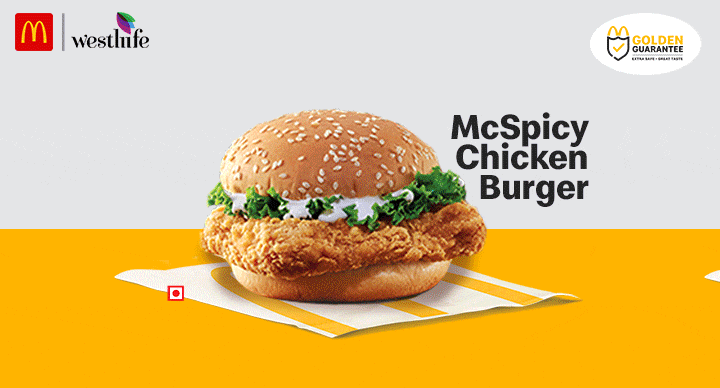 Given the pandemic, it's next to impossible to go food hopping around the globe right now. Why not just bring the flavours of the world to your doorstep instead?
What's more, McDonald's has added a desi twist to most of its international offerings to suit every Indian palate. And, we promise, your taste buds are sure to agree with these delights.
Here are 5 such fusion foods from the McDonald's India menu. Think global, eat local.
McAloo Tikki Burger
Aloo Tikki is undoubtedly a hot favourite in India. Place a perfectly spiced potato-and-pea one inside McDonald's fluffy burger buns, and you have a vegetarian's dream come true. This timeless burger, which also has a sweet tomato mayo slathered alongside fresh onion and tomato slices, is a smash hit even with international diners.
McSpicy Paneer Burger
Paneer in a burger wasn't a pairing that occurred to many until the McSpicy Paneer was launched in 2009. Today, it's one of the biggest selling items on the McDonald's India menu. The spicy bread-coated paneer fillet is the hero here, offering the perfect combination of a crunchy exterior, soft interior, packed with protein, and remarkable flavour.
McSpicy Chicken Burger
Crispy chicken patty gets a spicy desi lift in this McDonald's bestseller. Its tender, juicy bite, coupled with the creamy sauce, make it a rich affair. Apart from providing added crunch, the shredded lettuce also makes for a refreshing green sight. It's indeed a world of tastes and textures in just one McDonald's burger.
Mexican Cheesy Fries
Jazz up your French-fries experience by ordering this one. Think tangy Mexican salsa giving a good duet with an oozy cheese sauce atop your McDonald's fries. You're, thus, assured a rich, luscious snack consisting of fresh local ingredients for your belly. Not to forget, you have France, Mexico, India, and the USA coming together on a plate!
Chicken Chatpata Kebab Naan
Chicken kebab in a naan is truly the stuff of decadence. McDonald's presents this royalty in the form of a succulent chicken-kebab patty sandwiched in a sizzling grilled butter naan. The presence of habanero sauce means you'd be forgiven for believing you're feasting on this treat in Mexico.
You don't need to wait to book a flight ticket for this culinary adventure. Order now from the McDelivery app.