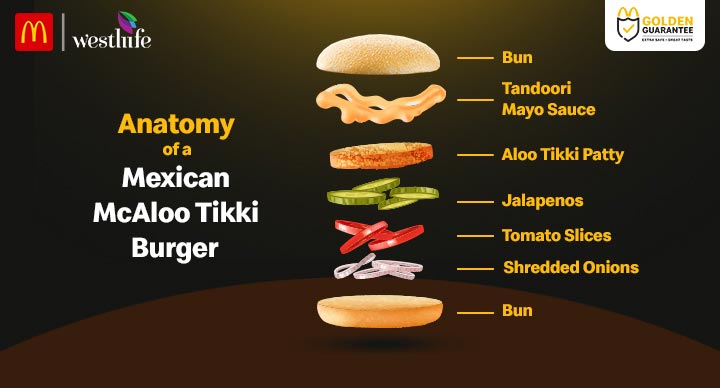 Love our McAloo Tikki Burger, which also happens to be our all-time hot-seller?
Now you must try its Mexican avatar—the Mexican McAloo Tikki Burger!
Even a single bite of this yummy burger is enough to transport you into a flavourful paradise. An army of fresh, high-quality ingredients dutifully play their role here to give you a superior burger experience.
Here's an anatomy of this extremely satisfying Mexico-meets-India McDonald's Aloo Tikki burger that shows what goes into its making. Be fairly warned that you won't be able to resist ordering this flavoursome stack right away!
Buns
Bite into your Mexican McAloo Tikki Burger, and you're most likely to taste the pillowy bun first. That's how you know you've sampled the signature McDonald's flavour and texture. Made at a state-of-the-art facility in Maharashtra, these quality buns are a major reason our burgers have been able to carve a place in your hearts. You can also order the Mexican McAloo Tikki Burger with Whole Wheat Bun.
Tandoori Mayo Sauce
Our super-creamy sauce not only adds to this gorgeous McDonald's burger's palatability but also helps its varied elements come together beautifully. At the same time, its tangy note leaves a pleasant aftertaste in your mouth.
Jalapeños
Your Mexican McAloo Tikki Burger gets its Mexican touch mainly from the use of these hot peppers, which we procure fresh and local from some fine farms in Karnataka. Needless to say, the jalapeños are also the source of all things fiery in this delectable burger.
Onion shreds and tomato slices
The sweetness of the onion is well matched by the tartness of juicy, ripe tomatoes. Both work in tandem to up the burger's freshness factor.
Aloo Tikki Patty
McDonald's distinct Aloo Tikki Patty is a proportionately spiced potato-and-pea affair that perfectly suits Indian palates. Its crispiness completes the interplay of textures in this multi-layered McDonald's burger.
Get the taste of Mexico, right in the comfort and safety of your home. Order the Mexican McAloo Tikki Burger from the McDelivery app now!