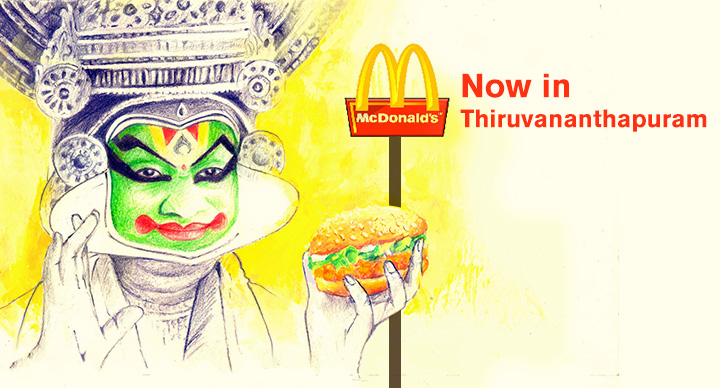 There's so much to love about Thiruvananthapuram. One thing is its lush green sceneries that have been captivating the hearts and eyes of many- It's not called the "Evergreen City of India" for no reason. Another thing is the intriguing British colonial architecture that adorns the already beautiful city.
And now, with the launch of its first ever McDonald's restaurant, Thiruvananthapuram just keeps getting better.
With 18 McDonald's restaurants spread across the state, it was about time Kerala's very own capital got some of its action. I guess the wait is over for the folks in the city because McDonald's is here and it is here to stay.
The new restaurant is located in Thiruvananthapuram's first mall – Mall of Travancore. With a seating capacity for over 100 guests and a party area reserved for special occasions, the restaurant is a spread of 2680 sq. ft. and will be open from 10 am to 10 pm.
One can simply get a kick at the thought of trying McDonald's India's signature items from McAloo Tikki Burger to Chicken McSpicy Burger, Chatpata Naan, and the recently introduced Rice Bowls. The whole wheat bun option, the delicious hot and cold beverages, and the irresistible desserts at the Dessert Kiosk make the McDonald's experience even better.
Now imagine having all the mentioned delicacies delivered to your doorstep right at home or at your workplace. Well, it's possible because the restaurant also provides McDelivery service.
For the folks at Thiruvananthapuram, we already know that 2018 is going to end very well.