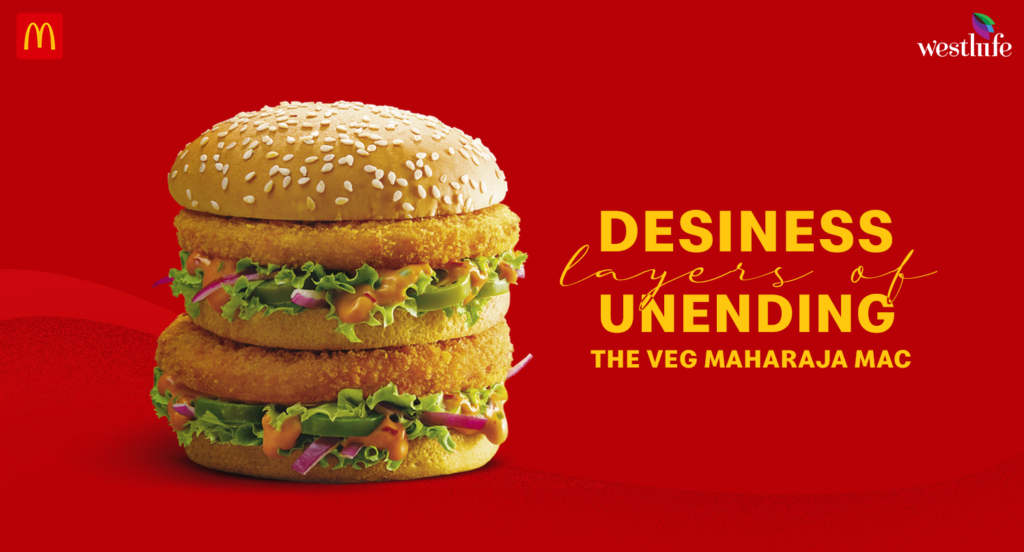 For years, experiencing the Big Mac in India was reserved for non-vegetarians. But this year, McDonald's surprised its vegetarian patrons with the Veg Maharaja Mac.
The first version of the legendary Big Mac was the Chicken Maharaja Mac, a combination of the grilled double chicken patty, flavored with smoky sauce and a slice of cheese, with slivered upon, crisp shredded iceberg lettuce, and juicy tomatoes.
Now, vegetarians too can enjoy the vegetarian version of the Maharaja burger McDonald's in the form of the Veg Maharaja burger, a delicious concoction of double patties with fine cheese slices, fiery jalapenos, and crunchy onions, placed on a bed of fresh lettuce patty with cheese and corn, with a topping of smooth, exotic sauces.
Smita Jatia, Managing Director, Hardcastle Restaurants, the master franchisee of McDonald's India (South and West), explains the reason for the launch, saying, "Seeing a lot of demand for food that is filling and indulgent made us launch the Maharaja Mac some years ago. But we did not want to exclude our vegetarian customers."
"So we conducted surveys amongst our customers, which revealed that vegetarians liked the corn and cheese combination." "Taking cues from that, we took our iconic product, the Maharaja Mac, and launched its vegetarian version in the form of the Veg Maharaja Mac."
" For our vegetarian customers, we have added a lot of vegetables, like lettuce, jalapenos, tomatoes, and onions, to the new Maharaja Mac burgers because customers want the freshness of ingredients like these when they bite into their burger," adds Smita Jatia.
If you haven't already, you must try out the Maharaja burger McDonald's options. Drop by a McDonald's restaurant near you or order in from the McDelivery app or the McDelivery website. Download the McDonald's app for offers and deals on McDonald's Maharaja Mac burgers.