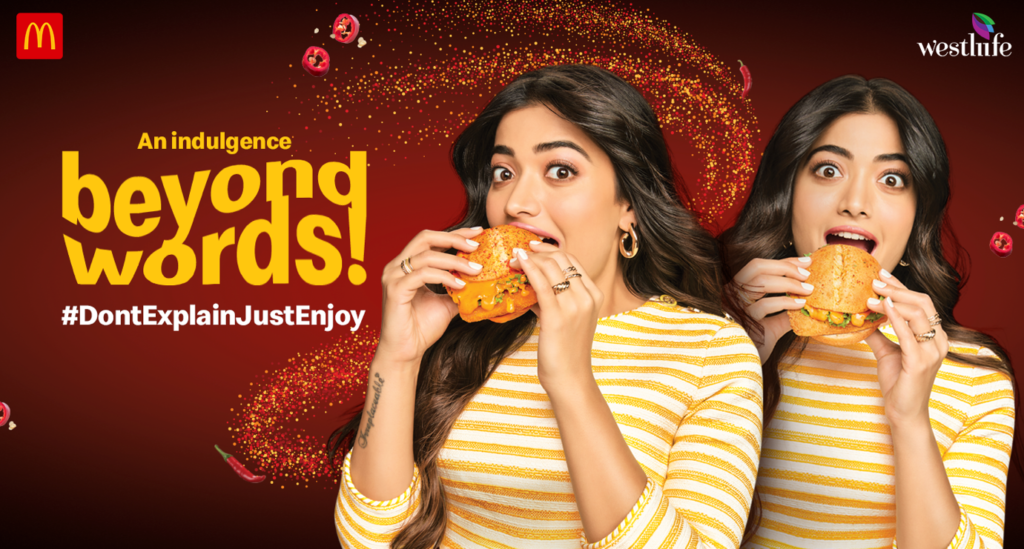 You must have heard the hot news. The McSpicy™ menu of McDonald's India (South and West) has four new fantabulous entrants. Needless to say, they are setting the stage on fire! The collaboration of Piri Piri seasoning with McSpicy™ just took the fun and excitement of enjoying spicy food to an epic level. This super-yum, chili-loaded range includes:
Piri-Piri McSpicy™ Paneer Burger
Piri-Piri McSpicy™ Chicken Burger
Piri-Piri Big McSpicy™ Paneer Wrap
Piri-Piri Big McSpicy™ Chicken Wrap
Toasted Piri-Piri Bun, special Piri-Piri sauce, shredded lettuce, and the new flaming Spicy Paneer and Chicken patties are hitting an all-time high on the spicy meter. It has even left Rashmika Mandanna speechless!
Yes, our national crush isn't saying much. It is obviously because she is preoccupied with the insanely irresistible taste, but it is also because it is a limited-time offer. And that is why her silence conveys that #DontExplainJustEnjoy.
To give you a clearer picture, take a look at Rashmika devouring her Piri Piri McSpicy™. She does this while being oblivious to the fact that she is sitting in a sea of Piri Piri seasoning that is trickling down a giant hourglass.
It is a delicious explosion of the fiery and crispy texture of McSpicy™ with the spicy and fragrant flavors of Piri Piri masala McDonald's. On taking the first bite, your senses will be roused with a fantastic zing, making you cry out, "Ohhh Myyy God!!!" But the very next moment, you will realize that there is no time to waste and you #DontExplainJustEnjoy.
Delon Mascarenhas, Sr. Vice President and Business Partner, DDB Mudra Group also said a few words regarding this launch, "When you truly love something, you should spend less time explaining it. And more time enjoying it. Even more so when it's not going to be around for long. This was the basis for the Piri Piri McSpicy™ campaign, whose limited-time-only offer is best represented by the striking visual of an hourglass filled with Piri Piri. We really didn't have to do many takes with Rashmika Mandanna. She was completely enjoying this new offering."
What is even more awesome is that the Piri Piri McSpicy™ range is rich in protein and is also a part of the Real Food Real Good menu. It comes without any artificial flavors or colors. Now you will only be singing, "para-pap-piri!"
To have your mind blown away with the robust flavors of Piri Piri seasoning and McSpicy™, you know what to do. As soon as possible, make your way to your closest McDonald's restaurant. Or, get it delivered home from the McDelivery® app or the McDelivery® website. For offers and deals on your orders, check out the McDonald's app.
Remember that the thrilling McSpicy™ with Piri Piri masala McDonald's is here only for a while, so hurry!