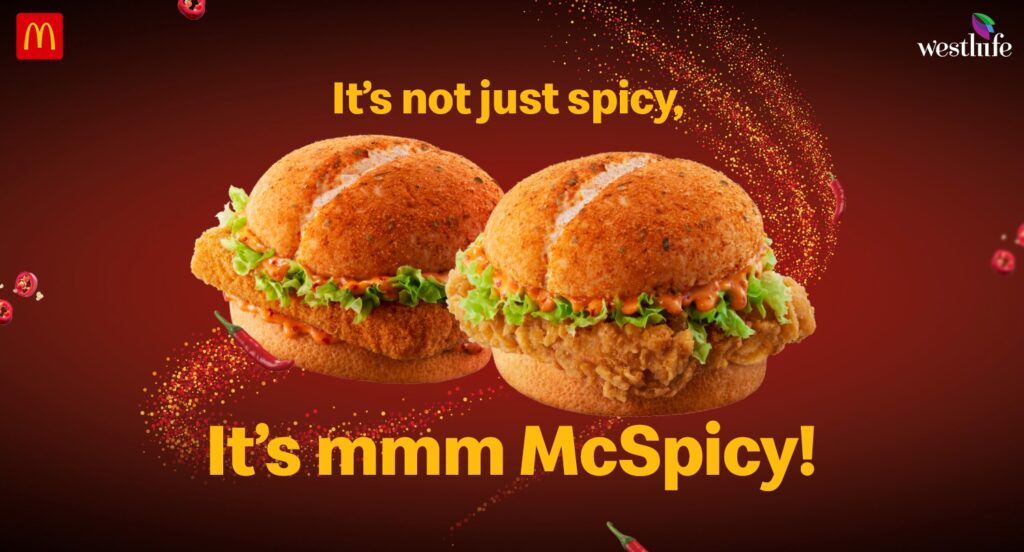 When the rest of the year is cool and eventually gets cold, it is the summer stories that make you feel warm. Summer story. You have heard this before, right? A child's first time learning to ride a bicycle, a middle schooler's overnight camp, a teenager's new pop band discovery, someone's first baking experiment that turns into a lifelong passion, someone's knitting project, or someone else's painting hobby. Basically, there is an activity of some sort that everyone takes part in. And at McDonald's too, we have something exciting that is an adventure on its own.
You think that the summer sun is hot? Well, we have something that you will find hotter.
Of course, it is the new Piri Piri McSpicy™ range that we are talking about. Yes, the sight of the enticing red that covers the seasoned burger bun or the wraps that are bursting with so many delicious ingredients is only the beginning. Well, it looks really good, and guess what? The taste is even better. If you enjoy your Fries with the Piri Piri Spice Mix, then there is no doubt that you will fall in love with the Piri Piri McSpicy™ range.
Remember, it is not just spicy; it is mmm mmm McSpicy™! It is almost unbelievable, right? Take a look at Rashmika; she is lost in a world of impossible deliciousness.
You don't see her talking at all because it is a taste that you #Don'tExplainJustEnjoy. Maybe that's why she forgot to tell you, but with the hourglass, she signaled that this is a limited-time offer. Just like the summer, this will get over soon, so hurry!
Remember relishing your Fries with the Piri Piri Spice Mix and gasping because it was spicy? News flash: things have gotten spicier.
Just imagine. Super spicy patties with the dreamy piri piri creamy sauce, some crunchy lettuce, and piri piri seasoned buns atop.
A piece of advice for you: stop imagining and get a taste of the Piri Piri McSpicy™ Chicken Burger and Piri Piri McSpicy™ Paneer Burger.
Piri Piri Big McSpicy™ Chicken Wrap and Piri Piri Big McSpicy™ Paneer Wrap.
Feeling famished? Hold on; there is more.
When crispy, spicy patties covered with creamy sauce, are wrapped with crunchy, fresh lettuce, something amazing happens.
That's right, the Piri Piri Big McSpicy™ Chicken Wrap and Piri Piri Big McSpicy™ Paneer Wrap happen.
Each bite is an explosion of never-ending spice and irresistible flavors, and you could make this your summer story. Let your senses experience every flavor of the enticing Piri Piri McSpicy™ range. Drop by your nearest restaurant. Or enjoy this McSpiciness at home by ordering in through the McDelivery® app or the McDelivery® website. For deals as delicious as your McSpicy™ Chicken Wrap or Fries with Piri Piri Spice Mix, download the McDonald's app.