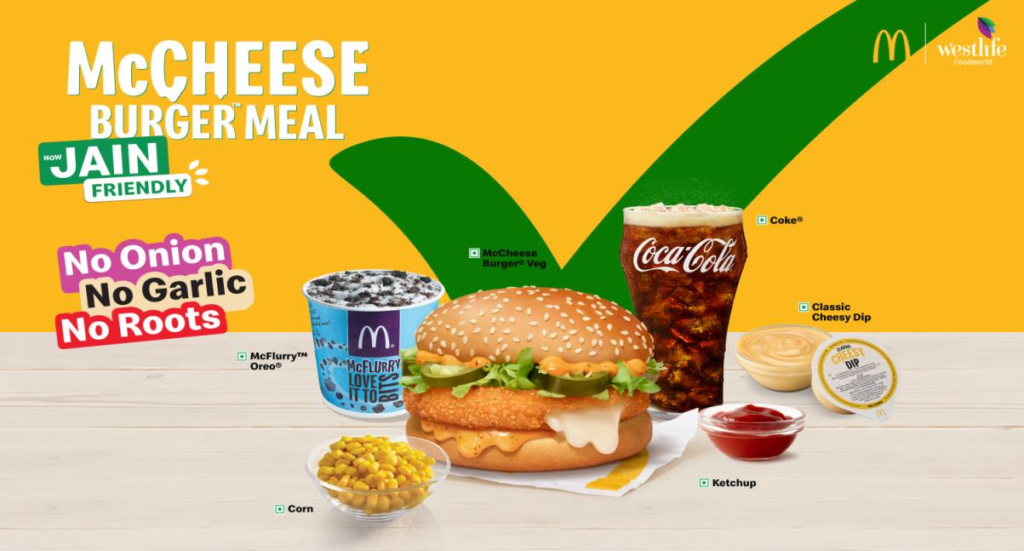 McDonald's is all about creating memories with delicious food. It doesn't matter who or where you are from; there is always something for everyone. Be it taste, preferences, food habits, or lifestyle choices, at McDonald's, we have got you covered as we truly believe in Food Inclusivity!
The key to creating an experience that caters to all is a menu that is palatable to all. And, that is why, McDonald's is taking it one step further by adding Jain Friendly items to the menu. Yes, it is a truly inclusive treat under our EatQual platform, we are serving here!
Already, there are vegetarian and non-vegetarian options, but the Jain friendly food menu is a completely new story. All the items are prepared in the kitchen allotted for vegetarian food. And they are made with no onion, no garlic, and no roots.
It is time for McDonald's Jain families to dig in as well! The products that are included in this menu are:
McCheese Burger® Veg – It is a veg burger without onion, garlic but loaded with cheesiness that has no end.
Classic Cheesy Dip
You won't find any onions, garlic, or roots here
Classic Corn cup
Fresh, crunchy, and juicy. You will totally be lovin' it!
Coke
Sip away without a worry because this whole section of the menu abstains from the same ingredients as you!
McFlurry Oreo
It is just soft serve with crumbled Oreo cookies. But wow, does it not taste like heaven?
Satvik ketchup
Yes you heard it right, even the ketchup you love in McDonald's can be Satvik and free from onion and garlic
We also have an entire Jain Friendly McDonald's meal that includes McCheese Burger® Veg, Classic Corn Cup, Medium Coke, Classic Cheesy Dip, and McFlurry Oreo (Small).
When we say that McDonald's is a place for all, we strive hard to make it so. This Jain friendly food menu has given space for more people to relish delicious food and memorable moments too. It is the ultimate indulgent food experience!
Hurry now to have your first Jain Friendly McDonald's meal. Visit your nearest restaurant, or you can also get your order delivered to your doorstep through the McDelivery® app or the McDelivery® website. To avail deals and discounts on your McDonald's veggie burger and more, download the McDonald's app.