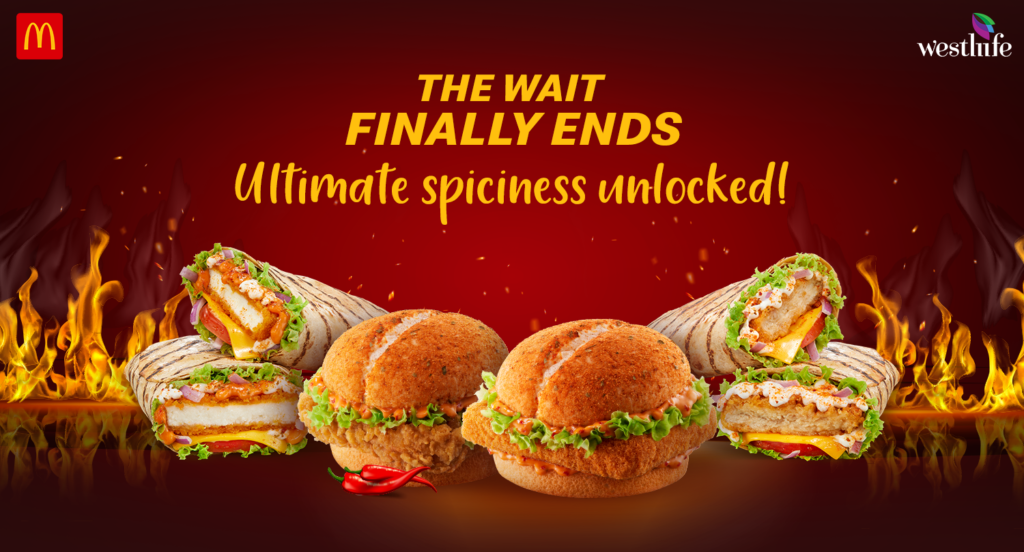 The suspense ends at last!
Spicy food is one of the best ways for your body to release endorphins. It not only happens while you are eating but also while you place the order excitedly, shaking your leg or tapping your fingers at the table in anticipation. The aroma fills you in seconds before you see your meal, then finally bite into your chili-loaded indulgence. The senses are roused, and you feel a zing running through you. You might fall off your chair when you learn that McDonald's has increased its spicy meter like never before. Wait, did that just happen?!
Over the last few days we have been taking you through the exciting journey of spices, chilli and Piri-Piri. You have also been told to wait for the big reveal. It is almost like you were left on a cliffhanger, eager to know what is going to happen. Well, the cat's out of the bag, and it looks like it is going to devour the entire meal because it is one hell of a treat!
When spicy food lovers order burger online, the McSpicy™ menu is a no-brainer. And you will be happy to know what comes next. Your McSpicy™ burgers just got spicier with the grand explosion of the mighty, spicy Piri-Piri flavor.
Words are not enough to let you know how thrilling this is, but you'll know soon!
The already spicy burgers are now filled with Piri-Piri; and that's a whole different level. But, surprisingly enough, there is more. These burgers are made with buns that are Piri-Piri toasted. Every part of this meal is tongue-clicking, lip-smackingly spicy! It is red-hot, blazing, and amazing through and through.
Now you know why there was a massive build-up: because the reveal is so unbelievable!
The next time you order burger online, give your taste buds an adventure with the new Piri-Piri McSpicy™ burgers.
This enticing McSpicy™ makeover comes with more than one exciting option.
With spicy patties, Piri-Piri creamy sauce, crunchy lettuce, and Piri-Piri seasoned buns, you have the new:
Piri-Piri McSpicy™ Chicken Burger and Piri-Piri McSpicy™ Paneer Burger.
It is flaming, fiery, hot, and… there is more!
Not just the McSpicy™ burgers, but even the wraps come with a Piri-Piri twist.
Crispy, spicy patties with creamy sauce and Piri-Piri seasoning, wrapped with crunchy lettuce, onions, tomatoes, and soft cheese, give you:
Piri-Piri Big McSpicy™ Chicken Wrap and Piri-Piri Big McSpicy™ Paneer Wrap.
Now that is what you call a big indulgence! It is spicy beyond imagination, and you just have to experience it for yourself.
Speaking of all this mouth-watering spiciness, any guesses on who is the face behind the launch of this spicy treat? It's none other than fellow McSpicy™ lover Rashmika Mandanna! She is here to let you know how crazy spicy and crazy good this new range is – Actually no, she believes in the idea of #DontExplainJustEnjoy. Confused? Stay tuned to know more!
Can't wait to treat yourself to this eruption of delicious spiciness, right? You know what to do. Head over to your nearest McDonald's restaurant for the most anticipated of meals. For deals and discounts on the new Piri-Piri range, the best burger in India, and more, download the McDonald's app.