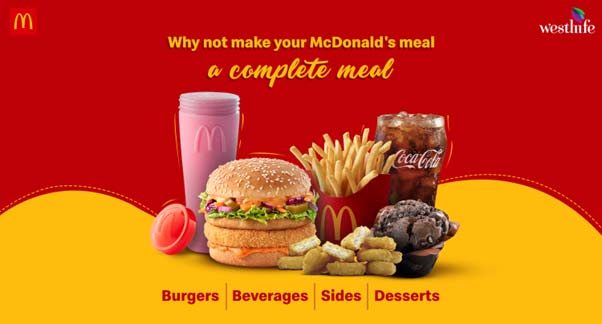 What is your go-to preference at McDonald's? Let's take a guess, it is burgers, right? As wholesome as a McDonald's burger is, it's yummier when you pair it with another indulgence!
Check out these five picks for you to feast on with your burgers:
Fries, a worldwide favorite
You can't say no to fries, can you? Especially the ones from McDonald's! It is simple yet so satisfying. Pair your burger with the long, evenly cut fries that come in regular, medium, or large and you have a filling meal. If you would like to add more flavor, then get yourself some Mexican Cheesy Fries or Piri Piri if you wish!
Munchies on the side – Chicken Nuggets
If you are someone who likes to include chicken in all your meals, then McDonald's chicken nuggets are for you. No artificial colors, flavors or preservatives! With big burger bites, you can enjoy smaller, yummy ones too. It is tender, juicy, golden brown, and comes in six, nine, and twenty pieces. These are perfect munchies to enjoy solo, with a friend, or even in a large group. The non-chicken lovers can opt for cheesy veg nuggets.
The classic choice – Coke
One simply can't go wrong with classics! The good old coke is here to make your meals more satisfying. No one ever regrets ordering a soda! A bite of burger and a sip of chilled coke right after is absolutely divine. If you prefer a diet alternative, there is Coke Zero Can as well.
A happy ending to your meal – Chocolate Chip Muffin
Desserts are the perfect ending to a meal, and what better than a chocolatey one? If you haven't already, you should try the McDonald's Chocolate Chip Muffin. It is soft, generous, and oozing with chocolate chips! If you don't like things too chocolatey, then you can go for the Vanilla Chocolate Muffin.
A velvety touch to your meal – Strawberry Shake
The Strawberry Shake is a popular favorite here at McDonald's. Enjoy your scrumptious burger with a delightful blend of vanilla and strawberry. You can add a single or double dollop of whipped cream to make it softer. For the chocolate fans, there is a Chocolate Shake with whipped cream as well. Give your burger the company of one or more of these awesome options at an outlet near you, or get it home delivered from the McDelivery website or the McDelivery app. Enjoy a wholesome McDonald's meal!