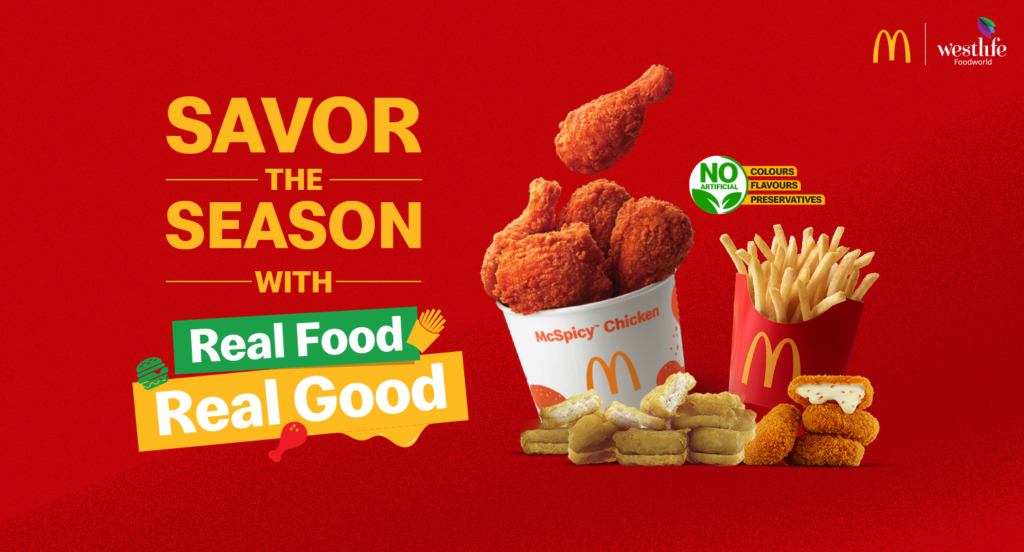 There is a strange connection between the monsoons and hunger. The rhythmic fall of the raindrops rouses a rumble in the tummy that definitely needs to be taken care of.
At times like these, one turns to street food. However, it is not always the wisest of choices, as you don't really know what goes into it. But at McDonald's, we have something in store for you that gives you the yummy nom noms that you have been craving while also keeping the health quotient in check.
The Real Food Real Good range is a part of the menu that comes with literally, absolutely, and undoubtedly zilch, nil, nada amounts of preservatives, artificial colors, and artificial flavors.
Local, real, and fresh ingredients are what make real McDonald's food real good.
What makes it even better is that at McDonald's, the best hygienic and safe practices are followed. The Nutrition and Allergen Information for each item on the menu is available online and in store so that you can make conscious food decisions.
Your favorites sound even tastier now, don't they? And the best time to relish them is when the skies shower the earth with nourishing water.
Does the roaring thunder make you pull out your go-to fantasy novel, wrap a blanket around and have something to munch on? Then the real McDonald's food options have got you. Immerse yourself in the tales of dragons and goblins while you nibble on preservatives free food like Chicken Strips.
If you wake up to a chilly morning where it is still drizzling outside, a plate of Hashbrowns and Hotcakes which are foods without preservatives, will be an amazing way to start your day.
Are monsoon nights synonymous with movie nights? Then your comfort rom-com, thriller, or action film and your comfort food like Fries, Cheesy Veg Nuggets, and Chicken Nuggets are how you should roll.
Perhaps an impromptu sleepover with cousins is scheduled. Then, there is no fun without food, and the McSpicy™ Fried Chicken and the McSpicy™ Chicken Wings will do the trick. And you should definitely check out the McSpicy™ Chicken Sharers.
There is nothing like the rain to bring the family closer. Huddle up together with the fam and hear and share all the epic monsoon stories. During moments like these, something super spicy would be awesome. Guess what else is part of the foods without preservatives menu? There are Piri Piri McSpicy™ Chicken Burger, Piri Piri McSpicy™ Paneer Burger, Piri Piri Big Spicy Wrap Paneer, and Piri Piri Big Spicy Wrap Chicken for you to choose from.

Beat the hunger pangs of the monsoons with snacks and meals from the Real Food Real Good Range. Enjoy real McDonald's food that has no preservatives, artificial colors, or artificial flavors. Save yourself from getting drenched in the rain at a McDonald's near you. Or, stay cozy at home and get your order delivered from the McDelivery® app or the McDelivery® website. For more offers on preservatives free food, download the McDonald's app.