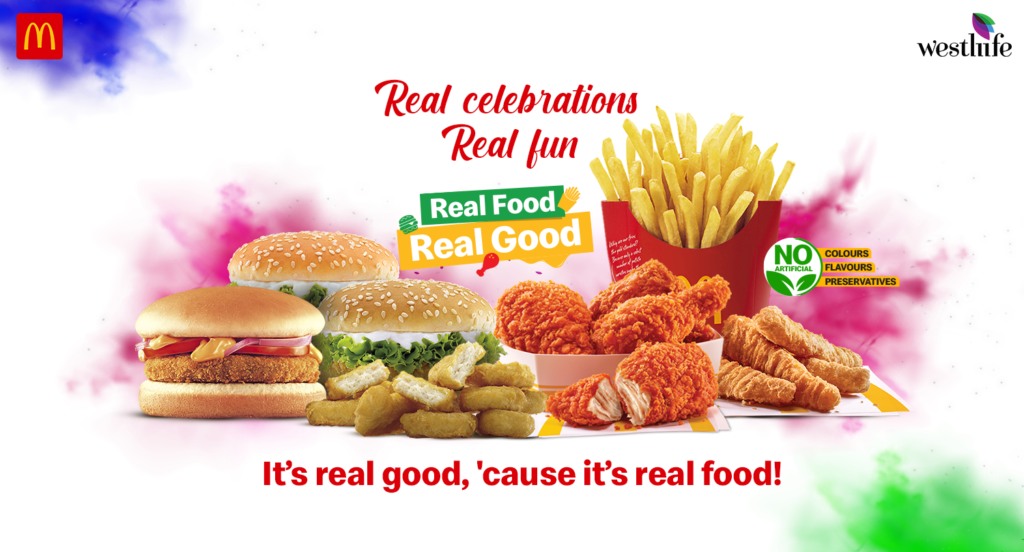 Holi hai! The day of celebrations is finally here! A day where everyone lets loose and throws colors at each other. Holi, as a festival, has a rich cultural history, dating back thousands of years. It is a day of childlike joy where children and adults alike, come together to throw colors or spray buckets of color water on everyone who is around them.
A day of Holi is usually packed with activities to do and places to go. This jam-packed schedule of meeting and greeting friends and relatives can get exhausting and this is where McDonald's has you covered. Just like we've gotten mindful of the colors that we use on our skin, McDonald's believes in clean cut, sumptuous meals with no artificial flavors. Real fun comes with real food which means No preservatives, no artificial colors and flavors. But, there is no compromise on the juicy, divine taste. You're really craving some McDonald's french fries, cheese nuggets McDonalds, McDonald's chicken wings, and McDonald's fried chicken, aren't you?
After your early morning session of using the dreaded "Pichkari" (Water gun) on your friends, you can get your healthy breakfast at McDonald's. With McDonald's breakfast menu options like Hotcakes and Hash Browns, they'll prove to be the clean fuel that you need to stay energized throughout the day.
If you are one of those who like to have a big lunch, there is a great deal of variety in the all day menu. With lip-smacking items like McSpicy Fried Chicken, Chicken Nuggets, Veg Nuggets Chicken Strips, meet your day's protein requirement with real food that's real good. The McSpicy Fried Chicken is crafted for an experience that'll make you grateful for being surrounded with water.
The McDonald's nuggets, both chicken and the veg option, along with the Chicken Strips, are perfect for those breaks during Holi with friends. Celebrate the spirit of Holi amidst your loved ones.
Through these real foods, feel free to enjoy an artificial flavor-free and color-free, preservative-free, guilt-free pleasure!
It will ring true that Holi has got you house hopping or building hopping, but don't you worry. You can order food from wherever you might be with the McDelivery® app or McDelivery® website. Don't forget to download the McDelivery® app, as new offers and discounts keep rolling through there.
Happy Holi!