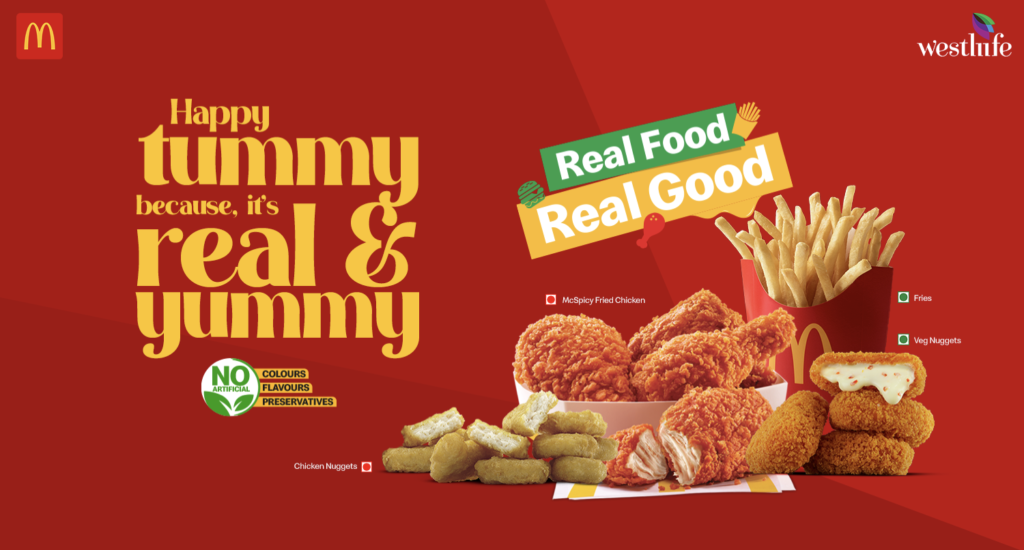 In 1948, the WHO (World Health Organization) held its first world health assembly and decided to celebrate April 7 of each year as World Health Day. It marks their founding anniversary, and each year focuses on a public health theme they want to prioritize. This year's theme is Health for All, with the purpose of removing obstacles to health.
As you already know, McDonald's is for all, and we pay attention to your feel-good moments and wellbeing too. Food brings immense happiness, and this happiness at McDonald's is in the form of Real Food Real Good.
It comes with foods without MSG and an absolutely zilch amount of artificial colors and artificial flavors.
From breakfast to the end of the day, enjoy your guilt-free indulgence at any time. The Real Food Real Good has got your back! Just take a look at the healthy food at McDonald's:
Hotcakes and Hashbrowns,
Can turn any Monday morning frown upside down!
The joy of relishing a burger is rooted in the patties,
And the fact that they are preservative-free will put you even more at ease!
Get your eyes on the prize,
Because it's the fresh and irresistible Fries!
Looking for healthy food at McDonald's?
Relish the Cheesy Veg Nuggets next to Ronald.
McDonald's crispy Chicken Strips,
Is a real good, yummy, and healthy fix!
Hey, it's the McSpicy™ Fried Chicken and McSpicy™ Chicken Wings.
Only authentic herbs and spices are what this delicious treat brings!
The new limited-edition Piri Piri McSpicy™ range will completely wow you with its no artificial flavors or artificial colors and fantastic taste. It includes the Piri-Piri McSpicy™ Paneer Burger, Piri-Piri McSpicy™ Chicken Burger, Piri-Piri Big McSpicy™ Paneer Wrap, and Piri-Piri Big McSpicy™ Chicken Wrap.
It is top-quality food made with real ingredients. It is real good because it is real food.
While you make informed food choices, so does McDonald's. Both in-store and on the app, Allergen and Nutritional information is available for all the products. Almost 100% of the ingredients used are fresh and sourced locally. They are sourced from the best farms and facilities around the country. Even the chicken used qualifies for McDonald's only after it passes 64 unique quality tests. And the burgers come with whole wheat buns now.
So, this World Health Day, choose wholesomeness that comes with a harmony of happiness and taste. Stop by a McDonald's restaurant near you for Real Food that is Real Good. You can also enjoy the same at McDonald's from the comfort of your home by ordering in through the McDelivery® app or the McDelivery® website. For deals and discounts on foods without preservatives, download the McDonald's app. 
It is mindful indulgence for All with McDonald's for all. 
Once again, happy World Health Day!