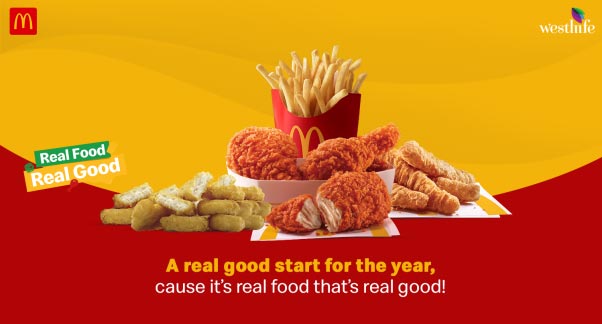 It's exciting to make plans for the new year's experiences. So, how is your 2023 looking? Are you still writing 2022 and overwriting the 2 into a 3? Does the cold still make you feel like it's December? Are you still in a vacation mood and do not want to leave your warm blankets and go back to school/ college or work? In any case, the most popular new year's activity is making resolutions, right? You, too, would have made yours. Being more active, learning a new language, going on a holiday—there is so much more to add to the list. But if your resolutions include eating healthy, then you should know that McDonald's is totally on board with you.
Yes, McDonald's is as concerned about what you eat as you are. When it comes to food, we bring our A game to the table. And, that's the reason why there is a Real Food Real Good menu that makes sure you have the healthiest food at McDonald's, and the fact of the matter remains, it does not include any added preservatives, artificial flavors, or colors. You can also find the calories information about each item both in the store and on the app, so that you can make informed decisions about your food intake.
The year is all yours to start on a very yummy and informed note with McDonald's low calorie food that includes all the burger patties that go into making your favorite burgers; McDonald's Fries that are definitely needed to make meals complete; Chicken McNuggets®, a snack you can't get enough of; Chicken Strips, which remind you that there is no such thing as too much chicken; McSpicy Fried Chicken and McSpicy Chicken Wings that are full of robust spices and flavors from the first bite to the very bone; Chicken Big Mac® which is the biggest launch of this brand new year. Aren't these Real Good? Simply because they are Real Food!
Go on and enjoy an extra serving of mindful indulgence. Relish them at a McDonald's restaurant near you. You can always opt for the comfort of your home by ordering in for the healthiest food at McDonald's from the McDelivery® app and McDelivery® website as well. Make sure to check out the McDonald's app for deals and discounts on your orders.