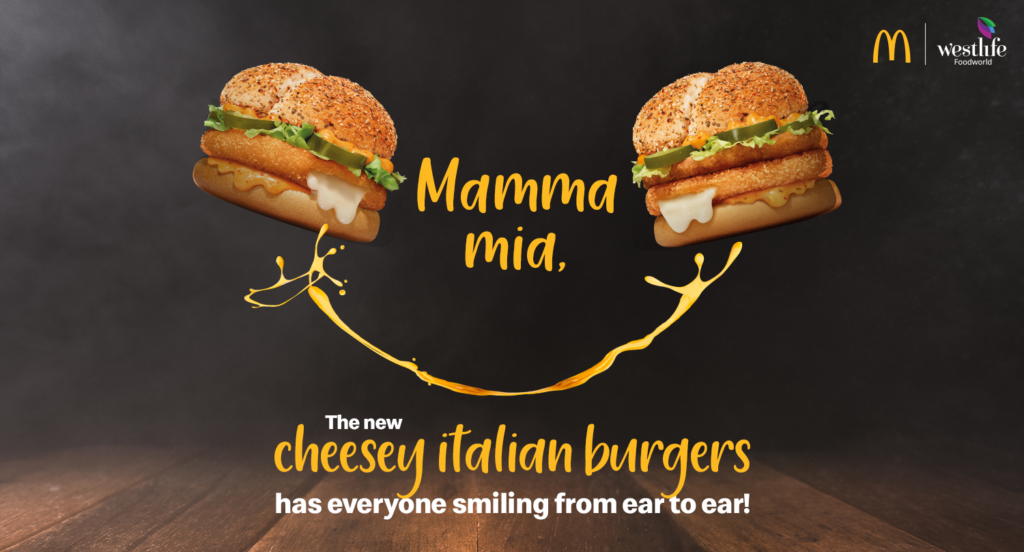 Even the simplest of foods becomes speechlessly good thanks to cheese. It's just a chef's kiss—the definition of perfection and soulful indulgence. Every mouthful of this rich flavor is magical. We know just how much you love this dairy product, and that's why we're strengthening the cheese menu. A mind-blowing McDonald's new cheeseburger with a veg and a chicken option is in town.
When you think of cheese, an Italian element comes to mind, right? Guess what – we're bringing this rich flavor straight to you with the Cheesy Italian Veg and Cheesy Italian Chicken Burger. Wow, even saying the name makes you imagine the rousing aroma of warm, melted cheese that is mouth-watering, doesn't it? You'll be surprised at how awesomeness-packed these burgers are. Let's dive right into what a flavorful ride this McDonald's cheese burger range will take you on, shall we?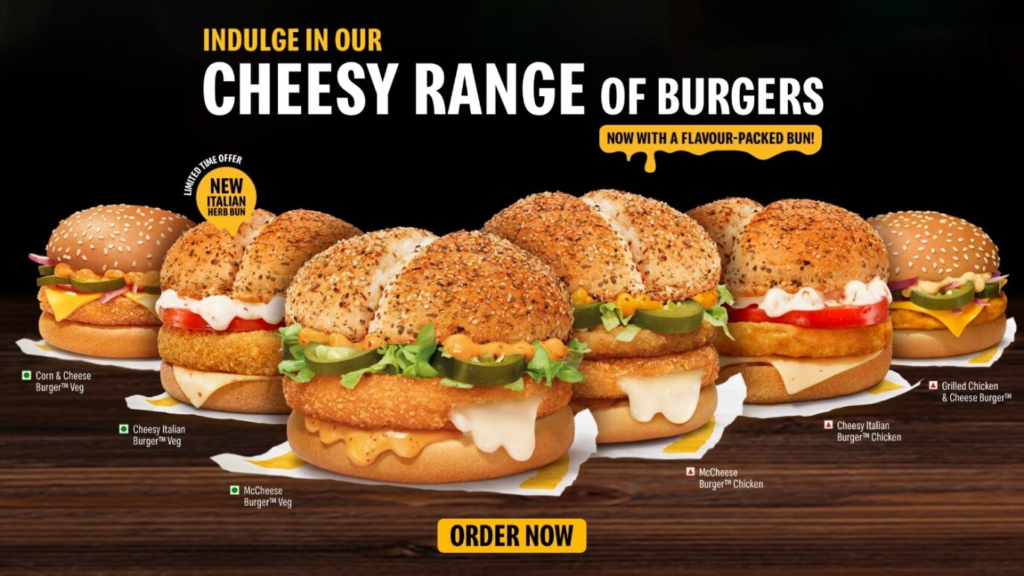 Cheesy Italian Veg Burger
A patty generously infused with corn and cheese comes layered with fresh tomato slices and something else you wouldn't have expected. A flavored piri piri cheese slice that is lip-smackingly good is added as well with a beyond-tasty tomato cheese sauce, paired with perfectly toasted focaccia buns (imagine the play of flavors) on either side.
Cheesy Italian Chicken Burger
A dangerously delicious flame grilled chicken patty is layered with velvety tomato cheese sauce and ripe, evenly cut tomato slices that are topped with a flavored piri piri cheese slice. It doesn't end here. Be prepared to relish the perfectly toasted focaccia buns that encase all the ingredients.
You'll be happy to know that both the Cheesy Italian Veg Burger and the Cheesy Italian Chicken Burger are part of the Real Food Real Good menu. Absolutely no artificial colors, no artificial flavors, or no artificial preservatives have been used. It's authentic herbs and spices all the way with locally sourced, fresh ingredients.
Pretty awesome, don't you think? It's not just a new McDonald's cheese burger; it's new cheese, and also new buns with a taste that simply can't be explained. You have to try it to know it. If you are curious about focaccia, let's fill you in. Fun fact: Focaccia is a delicacy found all over Italy. Every layer of McDonald's new cheeseburger range is loaded with yumminess that you need to experience. And you'll need to do it soon because this is a limited time offer available in all McDonald's West and South stores.
In light of this new burger innovation, Arvind R. P., Chief Marketing Officer, McDonald's India (W&S) said, "We are delighted to introduce the Cheesy Italian burgers for our fans with an aim to make their festive season even more special. These new indulgent offerings, apart from our flagship McCheese burgers, combine traditional Italian flavors with the most loved Cheesy burgers platform. We at McDonald's India continue to push the boundaries of menu innovation delivering the epitome of cheesy indulgence."
Before we let you go, here's something you should know: You can now add the wowing flavored piri piri cheese slices and the perfectly toasted focaccia buns to other burgers as well. It just gets better, and better!
Rush to your nearest McDonald's restaurant to delve into the heavenly indulgence of the new McDonald's cheese burger options. Feel free to have your meal brought to your home through the McDelivery® app or the McDelivery® website. For more offers and deals on the new cheese burger, download the McDonald's app.