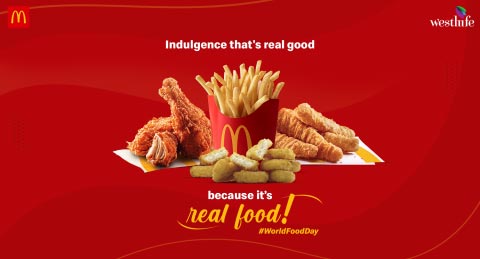 Hey, is there something special about today? It is related to something that everyone holds near and dear. Take a moment to guess. No luck? Well, it is World Food Day, an initiative that commemorates creating worldwide awareness about nourishment and food shortages by the United Nations. Food is such an integral part of our lives that we seek nourishment, replenishment, and comfort from it. It is also such a celebrated part of cultures across societies. And here at McDonald's, we take our food game very seriously, because it is Real Food that is Real Good. The McDonald's India team takes great care in making sure that items prepared and served are of the highest quality. There is a special part of the menu that is dedicated to preservative-free food, letting you gorge on a guilt-free feast!
Do you know which McDonald's foods come with an abundance of deliciousness and an absolute zilch amount of preservatives, artificial flavors, and artificial colors? They include the McDonald's Fries, Veg Nuggets, Chicken Nuggets, Chicken Strips, and McSpicy Fried Chicken, B Natural Mixed Beverage and Corn Cups. Your most loved burgers; McVeggie, McChicken and Aloo Tikki are also artificial color and artificial flavor free. So, the next time you dig into these indulgences, remember that you are consuming Real Food that is Real Good. Taking a step further, to make sure that your meal choices are more informed, McDonald's India provides the Allergen & Nutritional Information both at the restaurant and on the McDelivery app and website.
The kitchens at McDonald's strive to switch to healthier choices such as opting for whole wheat buns in burgers, made in Maharashtra, and bringing in fresh ingredients that are locally sourced. The crunch element of the burgers comes from lettuce grown in Ooty, Lahaul & Spiti, and Nashik. Karnataka contributes the must-have jalapeno toppings. The McDonald's cheesy specials are courtesy of the cheese supplied from the Baramati area of Maharashtra. The soul-filling potatoes come from Gujarat, while the rich and vibrant tomatoes come from the western farmland of India.
Don't be shy to use World Food Day as an excuse to relish an amazing meal with no artificial ingredients at McDonald's. You know how it goes. Dine-in at your nearest outlet or feel free to order in from the McDelivery app or McDelivery website. The McDonald's app always awaits with deals and offers you can't deny, so do check it out.
Happy Eating!