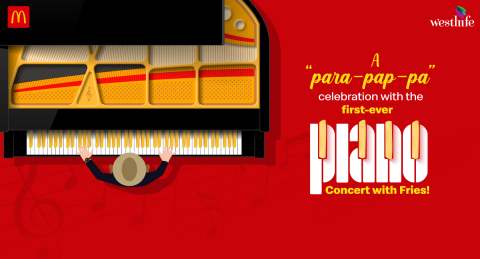 On this year's Children's Day, McDonald's India had planned something super fun and, at the same time, something unheard of. The McDonald's restaurant at Liberty Lodge, Vile Parle, Mumbai, had organized an event that brought great joy to every family that witnessed it. The Children's Day celebration was carried out uniquely with the world's first-ever Piano Concert with Fries. Yes, you read that right. No one needs convincing that fries are awesome, right? Fries can please in more than one way, and McDonald's India has manifested that. It was a day to let your inner child free with an unforgettable moment when music met fries, and it was nothing short of magical.
The iconic, world-famous, evenly cut, perfectly fried fries were placed and connected as piano keys. This finger food had totally set the mood, and it was time to move to the beats of your favorite feast! More than 100 families attended the event and got a chance to play a tune on this yummy instrument. Fries have already won over everyone, and now they have given us yet another reason to cherish them. Laughter, amusement, and wonder at this one-of-a-kind piano filled the atmosphere at the restaurant. Many musicians performed the "para-pap-pa" jingle with that one food which can truly make our hearts sing the same song. The fries that everyone is always lovin' gave yet another reason to rejoice at the first ever piano concert with fries.
Food and music are such precious, universal languages of love that touch everyone. And having our little customers enjoy both as if they were one and the same is truly special. This day was full of excitement and happiness. It also struck a chord of higher appreciation for the beloved fries. We hope to bring many more imaginative and memorable celebrations to you! Until then, don't forget to stop by your nearest McDonald's outlet for a soul-satisfying, beyond-delicious meal. Or get it delivered to your doorstep from the McDelivery app or McDelivery website. There are always offers and deals that are hard to refuse on the McDonald's app, so keep an eye on it.