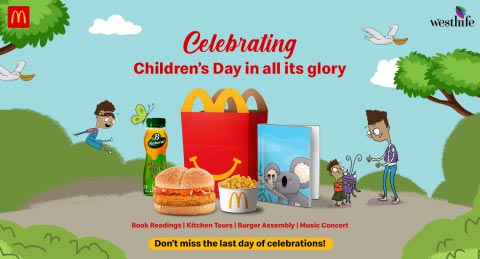 Have you been feeling the pumped up energy this weekend? Well, this Monday marks this year's Children's Day after all! So, the entire McDonald's team wishes you a very happy Children's Day. And, to celebrate with full fervor, we have prepared a super fun time for you and your little ones to enjoy. A Fun Family Weekend has been organized at select restaurants, and it is an opportunity to create precious memories that are full of activities and food.
It is Children's Day like no other here at McDonald's. It is a complete package of wholesomeness, with thoughtful activities and nutritious meals. There is going to be no stopping to cherish and relish food for thought and the tummy. The Happy Meal for Children's Day is loaded with deliciousness as well as nutrition. You will get a well-cooked, tasty McAloo Tikki Burger, a crunchy corn side, a sugar-free real fruit beverage, and a Happy Reader's book that is full of adventure. The last day of Fun Family Weekend is Monday, November 14th, so make the most of it. Wouldn't you like to have a happy time with your family at your favorite family restaurant? So, unleash your inner child with your children and have the time of your life.
Let's take you through all the awesome in-store activities you won't want your little one to miss out on:
Scavenger Hunt- a selfie game with everything that is red and yellow. Look, that is another excuse to take a picture with Ronald McDonald on his bench.
Kitchen Tours- where all the yummy magic happens.
Burger Assembly- a memorable moment for kids to make their own burger.
Music Concerts- hum, sing, and sway to beautiful beats.
Book Reading- especially for those who can't wait for the next Happy Readers book.
You can check out the fun-filled activities at these McDonald's stores:
Kandivali Cascade, Mumbai
Andheri Fun Republic, Mumbai
Atria Mall, Mumbai
Dadar Star Mall, Mumbai
Vile Parle West, Mumbai
Kukke Plaza, Bangalore
BTM Layout, Bangalore
Make sure to enjoy the innocent, carefree bliss of childhood with your little ones at the Fun Family Weekend at McDonald's. Create many more happy memories with your family at a McDonald's store near. Or, get your delicious meal home delivered from the McDelivery app or McDelivery website. The McDonald's app has many deals and offers, don't forget to check them out.
Happy Children's Day!