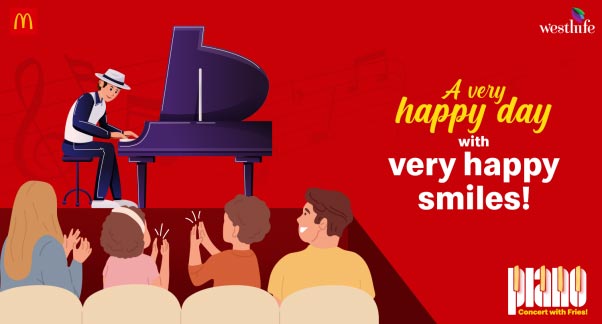 McDonald's has always been a special place for children. Along with the guarantee of a great family time, a treat especially made for our young customers cannot go unnoticed! Wouldn't you agree that the Happy Meal price, Happy Readers, the food, and the goodies have definitely brought a lot of joy? And to make it even better, in honor of Children's Day, McDonald's had some exceptional activities planned. Let's take you through all that took place during the celebrations. It was an exciting, adventurous, and wholesome experience for all. So sit back and enjoy!
The Children's Day festivities were taken to another level at the McDonald's restaurant in Liberty Lodge, Vile Parle, Mumbai. The time to let your inner child loose had arrived. The first-ever Piano Concert with Fries was held, marveling the families with the unusual union of food and music. Using playtronica, the McDonald's fries replaced the piano keys, and the music was a treat to both the eyes and the ears! Everyone grooved to the exceptional taste and tempo of the beats. The children and their families got a chance to play so many tunes on this delicious instrument and sing-along together. The famous "para-pap-pa" jingle was also played by the musicians. The global favorite found yet another reason to make everybody happy. Music and food are at the core of so many moments of togetherness. And this was a delightful addition to the precious memories of childhood.
Take a glimpse of the magic that happens when fries meet music!
https://www.instagram.com/reel/Clsbj-MLn9G/?utm_source=ig_web_copy_link
McDonald's gave nothing but sheer enjoyment from November 12–14. Seven select stores in Bengaluru and Mumbai hosted the Fun Family Weekend. You won't believe how many amazing activities took place during this long weekend! A red and yellow themed Scavenger Hunt was held, as well as McDonald's kitchen tours, burger assembly to learn how your Happy Meal options are made, a music concert, and a book reading session with the Happy Readers collection.
Hear from a mom who had a wonderful time this weekend.
https://www.instagram.com/themombliss/
Were you too surprised that there are separate kitchens for vegetarian and non-vegetarian options? It is through their fearless curiosity that children hold the keys to a world of knowledge, and adults get to experience and learn it with them.
All these games surely made the little ones hungry. But not to worry, the Happy Meal options have a nutritionally compliant meal. Every child was given a Happy Meal consisting of a McAloo Tikki Burger, a crunchy corn side, a real fruit beverage with zero added sugar, and a Happy Readers book to #FeedTheirCuriosity.
When you think of fun times with the family, think of McDonald's. This season calls for an awesome McDonald's Happy Meal price, so keep in touch with the McDonald's app. Stop by your closest McDonald's outlet to fill yourself with yumminess. Or, get your order delivered to your home from the McDelivery app or McDelivery website.