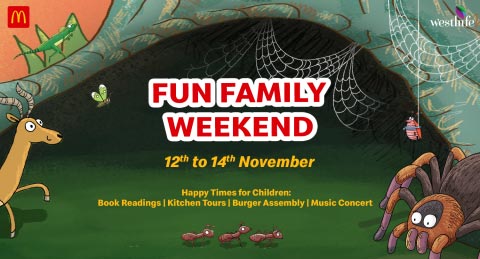 With a special day like Children's Day falling mid-month, aren't you excited that it's not just a day's celebration at McDonald's but a 3-day fun-filled weekend! Yes, it's an entire weekend that parents can celebrate with the little ones. The "Happy Meal Toy of the Month" kind of happiness at McDonald's restaurants is going to be taken to a whole new level. The dining-in experience is going to be loaded with much more. From November 12th to 14th, select stores will host a Fun Family Weekend. Activities and food always equal fun, and that is the promise of the Children's Day celebrations at McDonald's.
The McDonald's team has organized the Fun Family Weekend with thoughtful entertainment:
Scavenger Hunt, to keep those awesome, adventurous neurons firing.
Kitchen Tours, to give a sneak peak into how the deliciousness is prepared.
Burger Assembly, giving the kids an opportunity to make their own burger.
Music Concerts, be sure to sing along to some upbeat melodies with the McDonald's families.
Book Reading, for the curious cats of the young Happy Readers members.
Did you know that the ones who successfully complete a game win free soft serves? Now, that is as sweet as receiving the Happy Meal toy of the month in your meal, isn't it?
Also, don't worry. All fun and no meals—that is not the McDonald's way. Children's Day at McDonald's is a wholesome experience for the young ones. So, it is going to come with a wholesome Happy Meal that is nutritionally sound. It is packed with the tasty treat of the McAloo Tikki Burger, a crunchy, munchy corn side, a real fruit beverage with no added sugar, and a Happy Readers book to #FeedTheirCuriosity.
This fun-filled weekend is going to be held in these McDonald's restaurants:
Kandivali Cascade, Mumbai
Andheri Fun Republic, Mumbai
Atria Mall, Mumbai
Dadar Star Mall, Mumbai
Vile Parle West, Mumbai
Kukke Plaza, Bangalore
BTM Layout, Bangalore
A reason is never needed to enjoy a Happy Meal, especially when you know that you will get McDonald's Happy Meal toys. You and your little one are most eagerly invited to the Children's Day festivities this weekend. Keep having fun times ahead with McDonald's. We would love to be a part of your children's day fun weekend. See you at a McDonald's store near you! Also, you can always enjoy your meals at home by ordering from the McDelivery app or McDelivery website. Stay in touch with the amazing offers and deals on the McDonald's app as well.
Happy Children's Day!