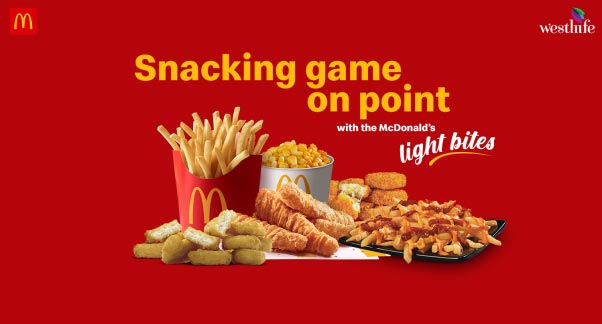 With each passing day, it seems to be getting a little less warm, and you are all set to don warm clothes and sip on warm beverages paired with some snacks. Now, are you someone who takes their snacking really seriously? Don't deny it! It is literally a full-fledged hobby. And, just about any snack won't do. The flavor and texture absolutely need to be on point. But, where would you find the perfect finger food? You would have probably guessed it by now, it's right here at McDonald's! Don't you think of those amazing McDonald's cheesy fries every now and then?
Although these are light bites, their importance must not be taken lightly. There are so many moments that call for much-needed munch and crunch. Movie marathons and catch-up sessions with friends are not complete without a full supply of snacks. The festive season is upon us, and the McDonald's munchies are apt to be served as tea time refreshments when unexpected guests visit. You can always pair the leftover nibbles as a side dish for your next meal. If you are working late hours, you and your colleagues will need some munchies to stay motivated.
Want to explore what goodies are in store? Let's explore the yummies from McDonald's that one cannot simply get enough of. Add a shake, chiller, or soda and turn on your snacking mode!
Fries
Fries are a world-famous snack that literally make everything better, and it's a well-known fact that McDonald's perfectly fried, lightly salted, crispy golden fries are difficult to compete with. If you want to jazz it up with more flavor, try it with the Chatpata Mix or Piri Piri mix.
Mexican Cheesy Fries
Loaded Mexican fries, a cheesy and spicy version of your favorite fries.
Chicken McNuggets
It is tender, juicy, and not easy to stop munching on.
Cheesy Nugget – Veg Bites
Crispy on the outside, cheesy on the inside. A combination that everyone's been lovin'!
Classic Corn Cup
Did you know that McDonald's offers sweet corn as well? It is difficult to shake off the juicy feeling when the soft kernels are chewed.
Chicken Strips
It is crispy and tender all at once, a taste you won't be able to forget so fast.
Veg Pizza McPuff
The classic pizza is wrapped up with a crispy brown crust and filled with mozzarella, rich tomato sauce, carrots, bell peppers, beans, and onions. A snack to enjoy when you are on the go.
Keep a look out for the McSaver Menu; it is a delight for all the snack enthusiasts. Be sure to check out the McDonald's app for delicious deals and offers. Enjoy your snackable moments at a McDonald's store near you, or you can always avail home delivery from the McDelivery app or McDelivery website.