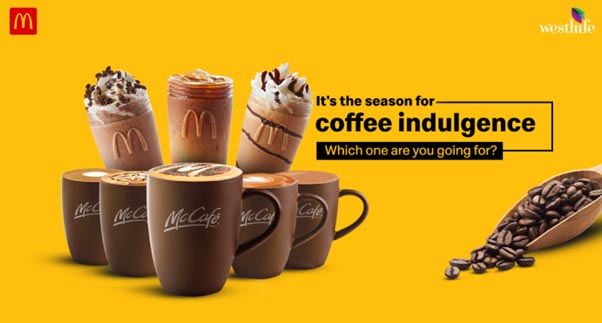 When coffee is bae, what can anyone say! It's clearly on top of the mind in every season but there's something even more special about it when it's pouring cats and dogs or drizzling. The stimulating aroma that fills the senses, the sight of the steam making its way through the hazy views, and the sip of McDonald's handcrafted coffee from the McCafé beverage menu that's perfectly brewed, completes the picturesque moment with the 'what can be better than this!' thought. Yeah, we get it!
While most people love their coffee hot in this chilly, breezy weather, a few out there like something chilled when the temperature is dropping. Wait, are we talking to one of those? Those who like their coffee with whipped cream and the chill that makes it feel like: 'this is what the experience ought to be!' Hey, hey, it's time for your kinda indulgence.
Coffee at McDonald's has something for every kind of coffee fan. The one who loves their coffee hot-hot to the one who loves that indulgent chill during the monsoons. We've got a variety of McDonald's coffee to delight you in every season, and this one is no exception!
Want it hot?
So, here's the picture. McDonald's handcrafted coffee, the company of your close ones, and the stillness that comes with every sip, or McDonald's coffee and you with your favorite book and it completes the vibe check. Pick a spot by the window and enjoy a sip of hot coffee at McDonald's while the raindrops graffiti the window pane.
For the McCafé hot coffee fans, here is what the 100% Arabica beans coffee will look like on the menu.
McCafé Americano
Cappuccino
Latte
Flat White
Mocha
Let's keep it cool?
Sure! With the cold coffee at McDonald's, you've got a variety of cold brews to choose from. Is the perfect setting a neat drop in temperature, the sound of pitter-patter, and the divine sips of cold McDonald's coffee? Voila! That does seem like a moment to indulge in!
When looking at the cold brew part of the McCafé Menu, here's what can have your attention.
McCafé Iced Americano
McCafé Ice Coffee
McCafé Mocha Frappe
Welcome this season with your favorite McDonald's coffee: hot or cold. Walk into the nearest McCafé or order online on the McDelivery website or the McDelivery app. Enjoy your McDonald's coffee your way! Sip or slurp 😊