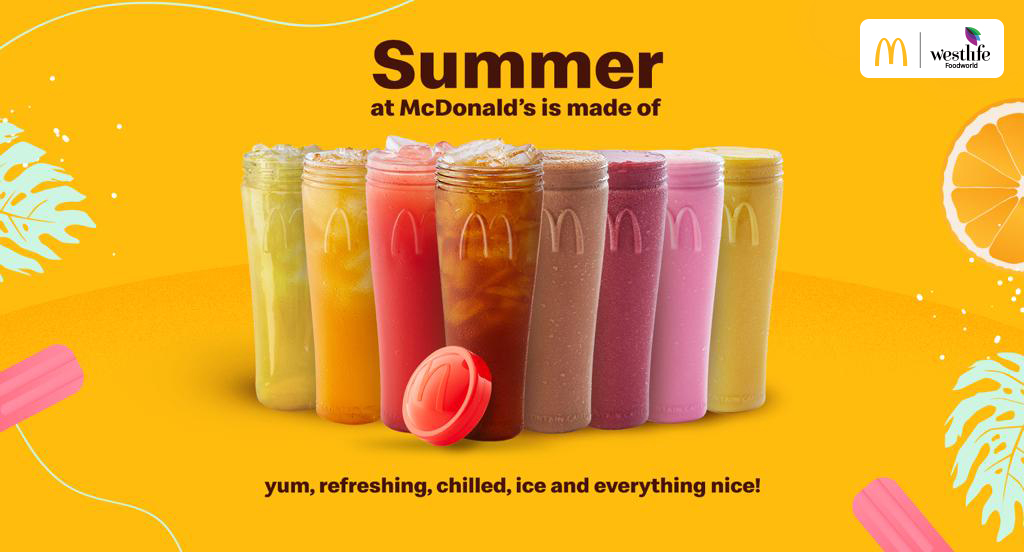 Has the peak summer caught you looking for places to chill? Is the heat wave getting to you? Have you been wondering where could that quiet corner be, to catch up with friends on the latest goss, make getaway plans to the seaside or run up the hills? Or have you made peace with one of the following things to do?
A quiet affair at home.
Some time by the pool as the sun goes down.
Timeout in the office canteen.
Your car space with the AC on full blast.
Seaside moments with the moonshining bright.
Or are you still looking for a hideout from the sun shining bright?
Hey, McCafé® it is!
The place where baristas serve the best cold coffee with 100% Arabica beans to lend a fine taste. Our coffee beans are sourced from the verdant hills of Chikmagalur. Didn't you just think about the McCafé® Iced Coffee? The perfect chilled McDonald's beverage for the towering summer heat.
If you are looking for a happy place with happy people, the best cold coffee, refreshing coolers, splash or chillers, McCafé® is the place to be! And, if you are in the mood for a quick bite of your favorite McDonald's burger, fries or light nibbles, that's a go-to option too. It's all a callout away!
To make things easy before you head to the McCafé ® nearest to you, here's what you can order to beat the summer heat:
McCafé ® Iced Coffee, Ice Tea, McCafé ® Iced Americano, Mango Smoothie, Mixed Berry Smoothie, Mocha Frappe, Chocolate Frappe, Caramel Frappe, Cold Coffee Frappe, Cold Coffee, Double Chocolate Frappe, Green Apple Ice Tea, Lemon Ice Tea, McCafé ® Classic Coffee, Chocolate Shake and then there is Berry Lemonade Splash, Lemon Chiller, Green Apple Chiller, Strawberry Chiller, Strawberry Shake.
If a relaxed, chilled break is on your mind, head straight to the nearest McCafé ® or you can choose to find your calm indoors and place your order through the McDelivery ® website or McDelivery ®app and we'll deliver the best cold coffee or is it the McCafé ® Iced Coffee? Well, arriving straight to your doorstep.
For exciting offers and deals, don't forget to download the McDonald's App right away, if you haven't already!