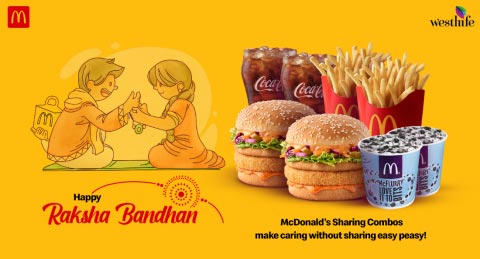 A shared wardrobe
Flicked shirt or watch?
Sharing your favorite McDonald's item
and what not?!
Siblings, it's not easy being with them or without
When sharing all your favorite things
is counted, and how!
The truth though, as most may agree
That love hides in these petty things
And shows up unexpectedly
Siblings, the McDonald's Sharing Combos celebrates you!
For all the sharing, caring and everything in between
If this has been your sibling story: love, care and sharing included, then we've got something for those who'd rather keep sharing their favorite McDonald's items out of question. The McDonald's McSaver Combo or the Sharing Combos bring to the table not just one but two of your favorite McDonald's items, and also McDonald's meals for not just two but the bigger gang!
McDonald's Combo Meal has an option for every occasion. Be it wholesome, indulgent and flavorful meals, munching during the match time craziness, snacking while binging on your favorite series, or just about indulging in your can't-do-without McDonald's dessert. The McSaver Combo not only gives you two of what you like but also shares the joy of saving. Uber cool, isn't it?
So, while the celebrations, gifts and everything else is in place for the special day of Raksha Bandhan, don't miss out on the McDonald's Combo Menu that can help you with a McDonald's festive spread. A little help to plan your menu? You've got a lot to choose from: 2 Fries (R), 2 McVeggie Burgers, Pizza McPuff + McSpicy Chicken Burger, 2 Iced Coffee, 2 McAloo Tikki Burger + 2 Fries (R), Indulgent Burger Meals, 4 American Cheese Supreme Veg Burgers + 2 Fries (M) + 2 Coke, McSpicy Paneer Burger + American Cheese Supreme Burger + McVeggie Burger + Veg Maharaja Mac + 3 Fries (L), and so much more!
We'd say, step into your nearest McDonald's restaurant or plan your McDonald's Combo Menu for the occasion of Raksha Bandhan by visiting the McDelivery website or McDelivery App. For more deals and offers, download the McDonald's App. Bring in the festive celebration with all that you love!