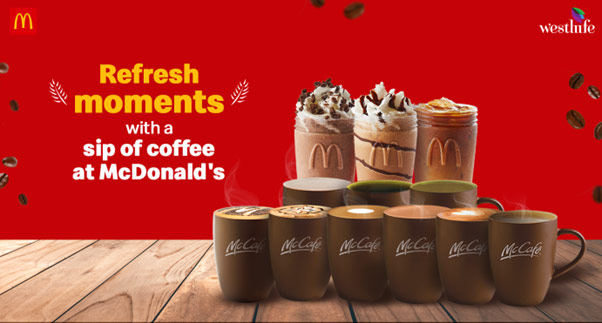 If you are one of them who thinks life only begins after a cuppa, be our guest. Coffee at McDonald's, both hot and cold, refreshes you with the kind of aroma and taste that feels nothing less than perfect!
Some like it piping hot and some like it cold, well, how do you like your coffee? At McDonald's, every coffee lover is spoilt for choice. What can one expect when the finest of coffee beans are sourced for the stimulating brew and the Q grader at McDonald's ensures that the coffee meets world standards.
To tell you some more about the coffee beans that are at the core of your favorite McDonald's coffee, guess what, it's the sought-after Arabica beans that come from the lush plantations of Chikmagalur. It's not just a perfect cup of coffee that we wish to provide, it is the entire feel-good experience of knowing that the ingredients are sustainably sourced, coffee beans roasted to perfection, and our trained baristas whip up your refreshing cup of coffee at McDonald's.
Now let's get to the real thing. McCafé Coffee is perfectly ground, handcrafted, and served with the right proportions of every ingredient that goes into making coffee at McDonald's a satisfying experience for you. Here's a reminder of what the McCafé coffee menu looks like. It includes the popular McDonald's Cappuccino, McDonald's Latte, and more, to complement your mood.
McCafé Americano: Delightfully strong. It's made with the signature McCafé espresso combined with hot water. This one is for the loyal coffee connoisseurs.
Cappuccino: A stimulating warm shot of espresso made with 100% Arabica beans, topped with milk that is steamed to a thick, perfect froth. Who doesn't like a classic coffee!
Latte: The fine McDonald's Latte is made with the signature McCafé espresso and topped with 100% real milk, steamed and frothed, just how it's done.
Mocha: A mix of well-ground coffee beans and white steamed milk, topped off with dark froth. Can you smell the coffee already?
Flat White: This combines the signature McCafé espresso made with 100% Arabica beans, blended with steamed and slightly frothed with 100% real milk.
McCafé Mocha Frappe: A chilled coffee refresher! This one is blended with rich mocha sauce and our signature soft serve.
McCafé Iced Coffee: Another one for the cold coffee enthusiast where our signature espresso comes together with soft serve.
The next time, you order your favorite McDonald's coffee or walk into the nearest McCafé for that perfect handcrafted brew, know that we are wishing you a brewtiful moment while you sip on your favorite coffee at McDonald's.