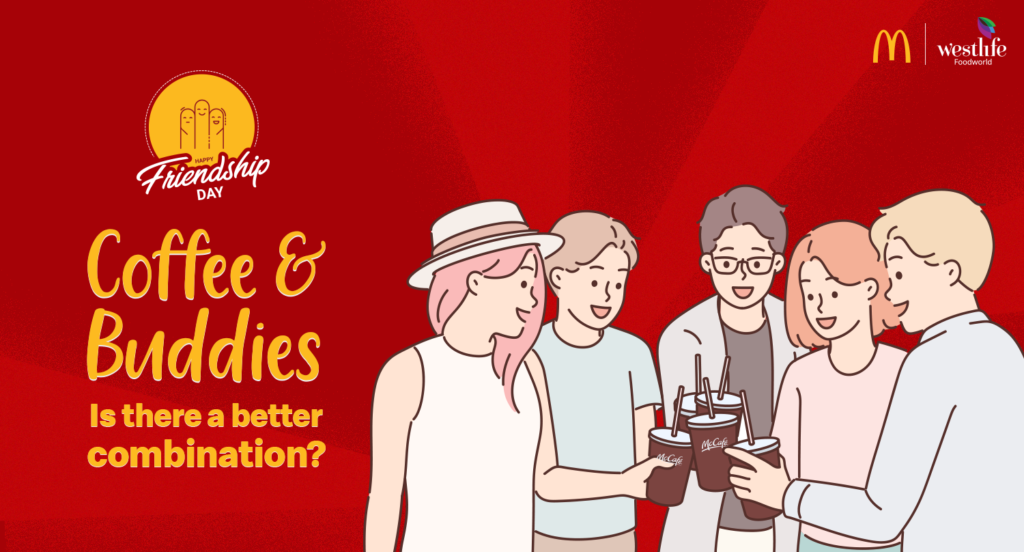 Each year, the first Sunday of August marks a day that celebrates the bonds of friendship. Whether it is with a colorful band around one's wrist or a handwritten letter, one truly feels grateful for this incredible relationship. McDonald's has always been part of your celebrations, big and small, and this time is no exception either.
Just like milk and honey, coffee and friends are a match made in heaven. Despite any situation, it is the ultimate combination!
If you are meeting up with your homies after what seems like ages, McCafé® is the perfect host. Enjoy the backdrop of the monsoon with the banter and chatter of your super-duper friends. This moment calls for McCafé® hot beverages like a McCafé® Americano or a McCafé®-Classic Coffee to keep everyone fueled throughout the conversation.
Brekkie with friends, what a way to start Friendship Day! Start your morning with McCafé® hot beverages like a Cappuccino, Flat White, or a Hot Chocolate McDonald's and dollops of laughter.
Even if you met your bestie just a weekend ago, you can never get enough of them. Nicknames, inside jokes, school stories, conspiracy theories, and sarcastic jabs, keep them going. "I am meeting my best friend too much," said no one ever. So, take the one who is like peanut butter to your jelly for a Mocha or a Latte.
Your workmate and you want to take a chill pill after a long day. We have just what you need. For those who like their caffeine cold as ice, try a McCafé®-Mocha Frappe, a McCafé®-Chocolate Frappe, a McCafé® Iced Americano, or a McCafé®-Ice Coffee.
Whether it is your study buddy or your neighborhood pal you went cycling with every evening, McCafé® is the perfect spot to reminisce about the precious times. The freshly brewed coffee, coupled with the many awesome memories that have been brewed all these years, is truly a symphony.
If you or your amigo happens to be a tea person, not to worry. McCafé® also has delicious tea options that you ought to try. Take your pick from Moroccan Mint Green Tea, English Breakfast, and Strawberry Green Tea. You can also opt for a Hot Chocolate McDonald's. Patch-ups, catch-ups, post-breakup pep talks, or hangouts. However the mood, McCafé® is here in your cherished moments of friendship. You can always stop by a McDonald's restaurant for McCafé® hot beverages. Or, you can also order your coffee drinks from the McDelivery® app or the