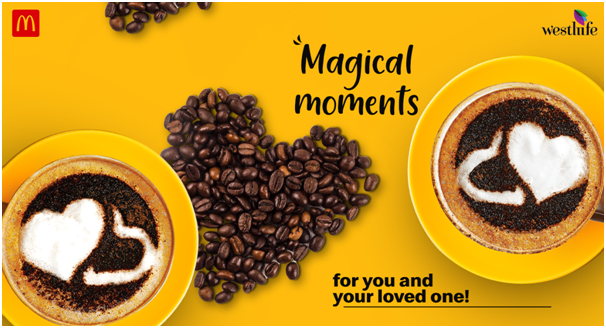 Roses are red,
Violets are blue.
Let's celebrate love,
At a McDonald's table for two!
It is that time of year when there is a red rush and things that make you blush all around. Thoughtful things and chocolates, and the progression of various days of affection, culminating in the big day, Valentine's Day! With the gifts and the feelings ready in advance, have you thought of the best place to profess them?
When you think of celebrations, both big and small, think McDonald's. And guess what, it is already in theme with the occasion with its fair share of red. Enjoy this super special time that has you always saying "I'm lovin' it" with the one you are in love with.
Along with the good vibes and cheerful mood, there's another layer from the McCafé® menu India that was handcrafted with love for your love. Our baristas are at work to brew you the best and crown it with connecting hearts. Your favorite Cappuccino will now come with Valentine's hearts created by stencil art. It is a one-plus-one offer because, hey, we love you as well! It is the attention to little things that makes moments memorable. The devil may be in the details, but this time it is playing cupid for you, and it has shot its arrowed heart!
A lot can happen over coffee, and we wish lots of love for you! The McCafé® drinks menu is here to help you create memories that will last a lifetime!
A chirpy day with faces that are full of glow,
Savor each moment with a delish McCafé® Americano!
Caffeine topped with love is what these cups show.
With the one who has your whole heart, enjoy a Cappuccino!
Love is in the air, and it smells like coffee.
Latte for two with a window view might just become your new hobby!
What is done with love is always done right,
So why wait to get your Valentine a Flat White?
If you get goosebumps because of how awesome they are and they also happen to like things chilly, then McCafé® Iced Americano and McCafé®-Ice Coffee are the drinks for you two!
If you are in love with each other and also with chocolate, the Hot Chocolate is a drink made in heaven for you two.
Don't lose the Mocha to look at someone the way you look at coffee, which is, of course, with extreme love.
Is your date prim and proper and full of poise? Then sip some tea together with Strawberry Green Tea, English Breakfast, or Moroccan Mint Green Tea.
Shower your Valentine with love in every move you make. Come over to enjoy the perfect date with the McCafé® menu India at a McDonald's restaurant near you. And as you know, the McDelivery® app and McDelivery® website are at your service to bring home your meals and even the coffee drinks at McDonald's. Stay logged in on the McDonald's app for crazy good deals and discounts.