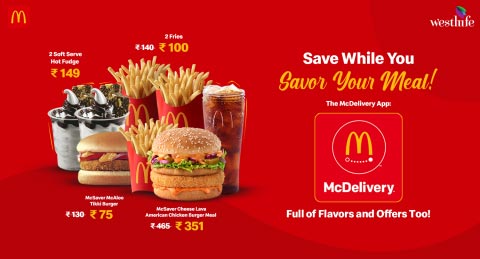 Wouldn't you like to save while you spend? There is an exact place where you can do so. It is the McDelivery app! There are exciting specials and offers every day that you can redeem and enjoy a fantastic meal. The amazing coupon codes and promo codes on the app add more happiness to your meal!
So many people can reap so many delicious benefits from the McDelivery app. Is the little one saving up some pocket money for a yummy Happy Meal? Want a food coma stress buster with friends right before the exams begin but there isn't enough cash to pool in? It is the end of the month and you have to give a birthday treat, but are you trying to push it until the first of the month when the salary rolls in? The offers on the app can help you get what you want at rates you won't refuse!
Catch your favorite McDonald's burgers, beverages, and desserts at prices that make you go para-pap-pa only on the McDelivery app. When you crave it, just click it, and claim it! It is a simple, easy, and super-friendly app! All you need is a smartphone, and then anyone can use it hassle-free.
Want to know some exclusive offers already featured on the app? Then check these out!
McAloo Tikki Meal at just ₹99
McVeggie Medium Meal at just ₹169
McChicken Medium Meal at just ₹175
McDonald's McSpicy Fried Chicken (3pcs) and 2 Coke just at ₹332
McAloo Tikki Burger and Veg Pizza McPuff with a Coke at ₹139
This is just the beginning, there is much more to come and so much for you to save.
Count on the app to let you crave more while you save more! It is also a chance to try out something new aside from your usual preference at super affordable prices. Avail these daily offers at your nearest McDonald's store or from the McDelivery app or McDelivery website. Don't miss checking out the McDonald's app for news, deals and more info.