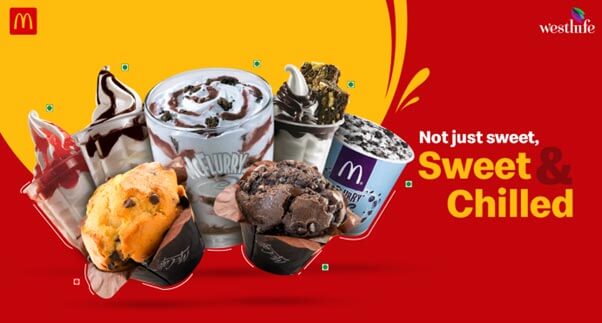 For someone with a sweet tooth, there is always more than one reason to indulge in something delectably sweet. Some could blame it on the summer heat, some could choose a moment of get-together, a good day or just another day, meeting an old friend, or just something yummy to complete one's meal. That's what a well-made dessert can do. Well, that's what a McDonald's dessert: Brownie Hot Fudge, Black Forest McFlurry, McDonald's Muffin and Soft Serve Strawberry can do for sure!
While you'll have your reasons to indulge in these McDonald's desserts, let's take you through what makes each one of them so special. Maybe you'll have many more reasons hereafter.
Soft Serve Strawberry & Soft Serve Hot Fudge: Chilled swirls of Vanilla drizzled with Strawberry syrup gives your tastebud the perfect chill, fruity and vanilla flavor with a soft, creamy texture. That's a McDonald's Soft Serve Strawberry for you.
For chocolate decadence, there's the McDonald's Soft Serve Hot Fudge that has twirls of comforting Vanilla soft serve topped with delicious, sinfully gooey hot chocolate fudge.
McFlurry Oreo & Black Forrest McFlurry: Imagine your favorite crumbled Oreo cookies on your yet another favorite McDonald's Vanilla Soft Serve, that's what makes McFlurry Oreo. Best of cookie and soft serve world!
If you are one of those who think that the flavors of black forest are an evergreen one, we've got the perfect combination here. McDonald's vanilla soft serve blended with strawberry and chocolate for the nostalgic sweet indulgence.
Vanilla Chocolate Muffin & Chocolate Chip Muffin: Sometimes, one would just like a warm, comforting muffin to go with a cuppa or just by itself, isn't it? McDonald's Vanilla Chocolate Muffin is for those days when you are looking for something sweet, soft and warm. If you'd like some chocolate chips in your muffin, McDonald's Chocolate Chip Muffin with chocolate chunks is what you should go for!
Brownie Hot Fudge: Brownie for days of sinful chocolate indulgence. We get it! Dig into the McDonald's Brownie Hot Fudge for a rich, chocolate indulgence where chocolate brownie and hot chocolate fudge delicately rest atop the vanilla soft serve. Is this what dessert heaven looks like, we wonder!
Are you thinking of a reason already? We'll serve your favorite McDonald's dessert with a smile at a McDonald's restaurant nearest to you or you could also order the sweet or sweet and chilled McDonald's items from our McDelivery website or app. It's a good day for some McDonald's dessert.