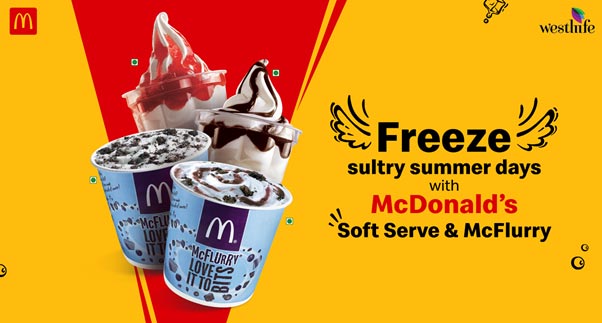 All said and done, a hot summer day calls for a good dip in temperature by indulging in swirls of smooth McDonald's soft serves and McFlurry. Ice-creams just cool off the summer tiredness with much needed respite. Just a McDonald's soft serve or McFlurry break, or as a dessert to a wholesome and indulgent meal, this side of the meal is the cherry on the cake, without a doubt!
From reliving the good old memories of celebrating moments with McDonald's soft serve, indulging in two, one in each hand sometimes or making amends with your sibling over an extra part of the soft serve, this is not just a McDonald's item that soothes the summer heat but one that literally freezes some of the best memories in time.
Which one is your go-to McDonald's Dessert? Which one calls out to you the most? Which one are you tempted to indulge in with a second round? We've got the flavors right here to remind you of what you can try the next time you think of McDonald's Soft Serve or the satisfying McFlurry variants.
Soft Serve Strawberry: One of the popular flavors in desserts, McDonald's Soft Serve Strawberry is a match made in dessert heaven. The cool vanilla soft serve with drizzles of strawberry syrup is just the right balance of fruity flavors and creamy vanilla.
Soft Serve Hot Fudge: Gooey hot chocolate fudge, for the 'this is it' moment? The creaminess of vanilla soft serve topped generously with Hot Chocolate Fudge makes it a sinful delight! Some may say grab an extra spoon, we say grab an extra McDonald's Soft Serve Hot Fudge. It's our version of the indulgent Chocolate Soft Serve McDonald's serves.
While you keep going back to the swirls of McDonald's Soft Serves, don't miss out on the McDonald's McFlurry variants.
McFlurry Oreo: What can one say when two of the favorites come together as one dessert. The melt in your mouth soft serve with crumbled Oreo cookies, a little crunch, much happiness.
Black Forest McFlurry: A flavor that is hard to resist. The strawberry and chocolate with the delicate vanilla soft serve is a joy for chilled-dessert seekers.
You know which way to head to, to grab your favorite McDonald's chilled dessert. Make it a session with family for post meal dessert outings, friends and colleagues for the much-needed ice-cream break or just a chilled timeout for yourself. In the mood to lounge in indoors? Order in from the McDelivery website or app, and enjoy a cool summer day in dessert heaven.