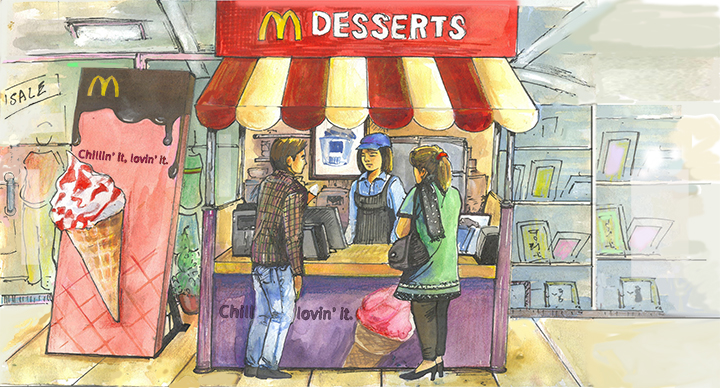 McDonald's Dessert Kiosks, which started out by serving the soft serve cone ice-cream, today offer customers a huge variety of delectable desserts – from the McSwirl Chocolate (vanilla ice-cream topped with hot chocolate sauce) to the McSwirl Butter Scotch (vanilla ice-cream topped with butterscotch ice-cream), Chocolate Brownie Soft Serve (soft serve ice-cream scooped in a glass and topped with chocolate sauce, with a slice of nutty brownie), McFlurry Oreo (McFlurry ice-cream filled with Oreo bits) and the McFlurry Choco Crunch (McFlurry ice-cream topped with crunchy chocolate bits).
The McDonald's Dessert Kiosks are usually located outside the restaurant, thus offering ice-cream loving customers a convenient way to buy desserts without entering the main restaurant.
However, the Dessert Kiosks' convenient location helps to attract customers to the restaurant itself, thereby serving as important transaction generators and providing an effective method of extending McDonald's brand presence to non-traditional areas. Also, Dessert Kiosks operate separately from existing restaurants, but depend on them for supplies and operational support. For example, a mall store restaurant can provide support for several Dessert Kiosks located in different locations throughout the same mall.
Moreover, Dessert Kiosks require low capital expenditures and provide returns on investment that are significantly higher. As such, they are an important driver in increasing McDonald's market penetration.