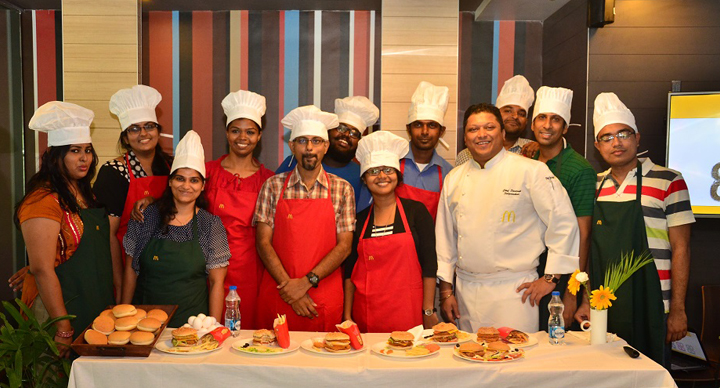 On 25 July 2015, McDonald's launched a new store at Adyar, Chennai with a super successful Bloggers meet. As a part of this meet, a group of food bloggers got to experience some behind the scene action at McDonald's. And so the fun ensued!
The meet was kick-started with a kitchen tour, which was a first of its kind experience for most of the bloggers present. The most striking feature of the kitchen was the separate veg and non-veg cooking areas and storage, as recounted by the bloggers. They were also happy to know that different people operate in both the sections.
Up next was a presentation on McDonald's quality policy on sourcing ingredients from local suppliers. Bloggers were presented with facts about operations of McDonald's in India and how the menus are designed, keeping people's preferences in mind. This was followed by a burger creation presentation by Chef Swarup Solgoankar. He showed everyone how to prepare a perfect McEgg burger. And he also quizzed the bloggers about health benefits of eggs and general trivia about McDonald's. The winners received special goodies too.
The highlight of the event was "Build Your Own Burger" competition. In this contest, bloggers had to team up or go solo and prepare a new burger using ingredients that McDonald's uses to prepare a variety of burgers- from Chicken Maharaja Mc to McAloo Tikki. Teams and individual participants were given 20 minutes to prepare their special burgers. The two winners, who had prepared the fastest and most appealing burger, were decided by the judges. The rest of the teams and individuals received participation gifts.
Post a happy lunch, the bloggers bid adieu until their next visit. We, at McDonald's, were thrilled to host this meet and would like to thank all the bloggers who took out time to visit the store. We appreciate the efforts of all the people who contributed to a successful meet. To read more about the meet and personal experiences of the bloggers, please visit their food blogs through the following links.
Muskaan Dutta's review for McDonald's