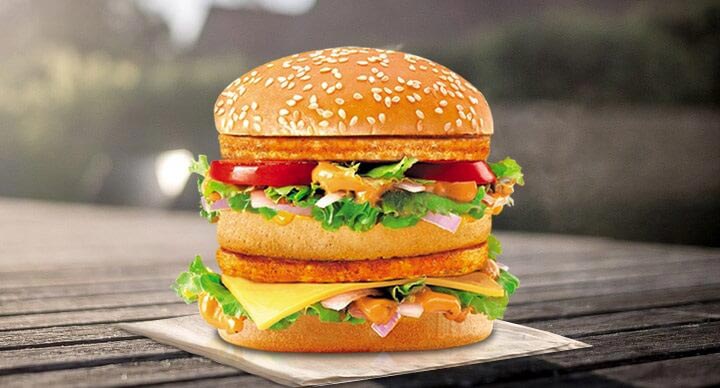 Big Mac, McDonald's signature menu item, is arguably the most known burger in the world. Originally named "The Aristocrat", Big Mac is available at most of the restaurant locations across the globe except for India.
But India has its very own Chicken Maharaja Mac, a burger which looks like Big Mac – double patties with three buns –but has no beef, and has every bit of a desi feel to it.
It took a while to conceptualize this burger. When McDonald's was working on its first menu for India, more than half of the menu items were changed to suit the tastes of Indian consumers. Based on the initial research and surveys, it was found out that customers were looking to try filling a burger with premium ingredients. Hence, it was decided that an Indian equivalent to the Big Mac should be created.
"It was a complicated sandwich; it had never been done before," says Vikram Ogale, Director, National Supply Chain & Quality Assurance, McDonald's India.
The McDonald's team then sat down and worked with the Vista Processed Foods team, with the latter coming up with the recipe for the burger. The entire ideation and development process took exactly nine months and the Chicken Maharaja Mac was launched.
It comprised a delicious chicken double patty, with rich habanero sauce, fiery jalapenos, juicy tomatoes and crunchy shredded onions, placed on cheddar cheese and a bed of iceberg lettuce. That was the Chicken Maharaja Mac for you, bursting with flavours in every bite.
The Process
The buns for the Chicken Maharaja Mac are sourced from Mrs Bector's, whose bakeries have the capacity to produce 2,40,000 buns daily. Vista supplies the chicken patties, iceberg lettuce, tomatoes and onions for the burger. The Vista plants have separate units for processing the chicken patties and fresh produces.
Once the buns, the chicken patties and the fresh produce go through all the required quality checks and are finally packed at their respective facilities, they are sent to Radhakrishna Foodlands, where they are stored at the right temperatures. The products are then loaded into multi-temperature trucks and sent to various restaurants.