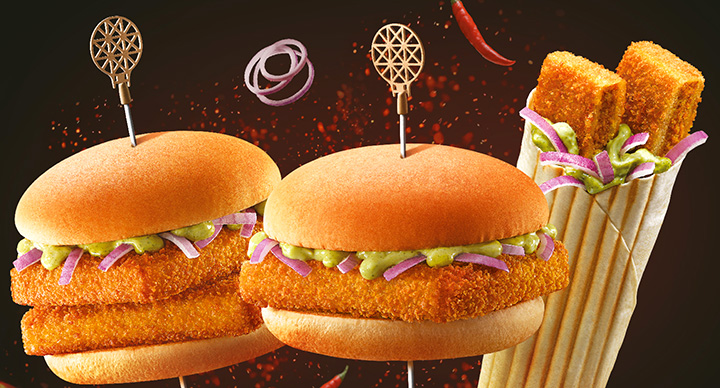 When McDonald's came to India 20 years ago, one of the first things the India franchise did was to offer a menu that was familiar to the local customers. The McAloo Tikki was that brilliant addition of a local favourite to the global menu, which helped the restaurant to quickly increase footfalls.
McDonald's is now attempting to repeat its success story in the vibrant city of Hyderabad by launching a range of new products with local flavours. Hyderabad is a city known for its kebabs, and McDonald's India (South & West) has just launched not one but three new dishes that remind one of the city's famous kebabs.
Burger mein Kebab
The new products launched in Hyderabad are the Chicken Kebab Burger, the Kebab Wrap, and the Chicken Kebab Double Patty Burger. They were launched at the McDonald's outlet in the busy hub of City Centre Mall recently.
McDonald's kebab is a traditionally cooked, spicy, square-shaped patty, made of minced chicken and seasoned with Indian spices, breadcrumbs and chickpeas, accompanied with sliced red onion. The new Chicken Kebab Burger is complimented with spicy Hariyali sauce, infused with green chillies, mint and coriander leaves, adding an authentic ethnic flavour to the mouthwatering offering.
Kedar Teny, Director, Marketing and Digital, McDonald's India (West and South), said on the occasion of the launch, "With this new introduction, we aim to delight customers in the city, who can now savour kebab in a unique format, with a local, familiar taste."
Teny added, "We continue to serve new innovations and develop several products in South India, which has been a major market to adopt and cater to the changing consumer trends. We have 22 stores in Hyderabad. We are testing here, and if it gets a good response, we will expand it pan-India."
The new menu, as in the case of the McAloo Tikki burger, is a blend of the familiar with the new, which makes for an exciting combination. It's sure to be welcomed by the people of Hyderabad, who not only love food, but like to try out new tastes, even as they remain loyal to traditional flavours.