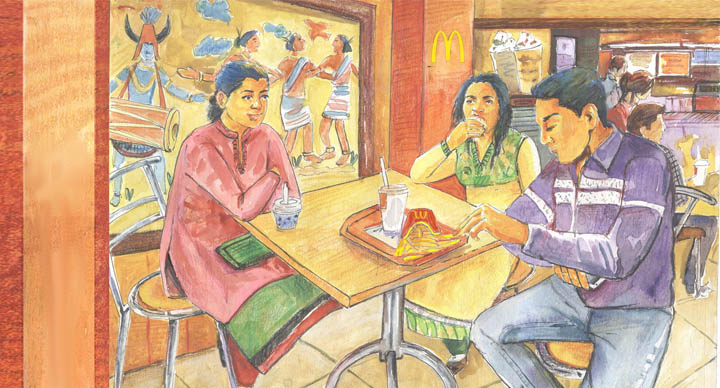 When the first McDonald's came to Raipur, the denizens of a city – known for its beautiful Hajra waterfalls and for cultivating the rare blue lotus otherwise found only in the cool climes of Kailash Mansarovar – were elated.
Many of them had tasted McDonald's food in other cities of India, and therefore had wished and waited for their favourite restaurant to come to their city. When it did arrive, they rushed to be a part of the excitement and taste their favourite dishes from the menu.
McDonald's, on its part, was ready to take Raipurians on a food trail that suited their craving for spicy desi food, with products like McAloo Tikki, Paneer Wrap, and the McSpicy range of burgers. Besides, who could resist the world-famous McFries?
Raipur, a city known for its fun-loving people, got its first McDonald's restaurant in December 2015. But looks like, one is simply not enough for the Raipurians, who celebrate every occasion by feasting, among other things. Sure enough, a second new restaurant was launched on March 21 in the capital city of Chhattisgarh.
While the first McDonald's opened at Magneto The Mall, on National Highway 6, the new restaurant too is located at a high-street location, the Ambuja Mall on Vidhan Sabha Road. Like the first restaurant, the second one too is meant to be a spacious one, spread across 3175 sq ft, with a capacity to accomodate as many as 129 guests.
The new restaurant also includes a separate area for hosting birthday parties.
At the time of the launch of the first restaurant in Raipur, Ranjith Paliath, Vice President, Business Operations, McDonald's India (West & South) had said, "We are delighted to add the golden arches to the map of Chhattisgarh through Raipur, as the market holds huge potential for growth."