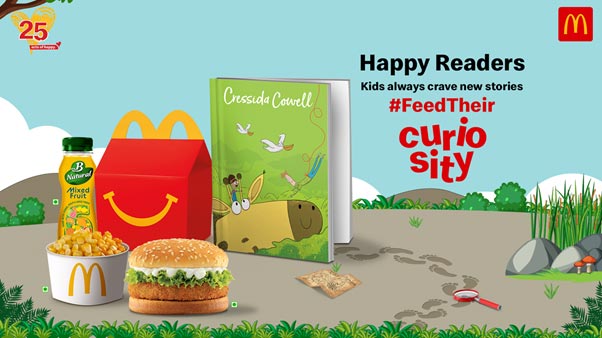 We've got exciting news for all our really young McDonald's fans. Parents, uncles, aunts, cousins, we're sure you are going to share this joy as well! McDonald's India is thrilled to add more happiness to the Happy Meals at McDonald's. Now on, McDonald's family meal that includes Happy Meals will be more than just a choice of burger, a beverage, a cup of hot, steamed corn. It's not just for hungry tummies and toy collectors anymore, but also for curious young minds. If you haven't guessed it yet, well, here it is – there are going to be exciting books in store!
Books that carry stories waiting to be uncovered, read-out-aloud for 6-year-old children and above. Creating moments that give families the opportunity to bond with their children. What can be more precious than time spent with family where young ones engage in reading from books other than screen time. Times when families get together and intently listen in to stories that make us go woah, really?! Stories that tickle the young minds' curiosity and also feed them with ideas and possibilities.
Yes, Happy Meal will now also feed hungry minds with captivating stories. Any guesses on who the story teller is? Whose books are going to be a part of the Happy Readers? It's the award-winning British author Cressida Cowell, who is popularly known for her multiple children's series and is currently the Waterstones Children's Laureate (2019 – 2022). The collection of books in the Happy Readers is curated by her. She has written a collection of 12 books, especially for McDonald's, of which two will be launched every month. The 12-book collection titled 'Tiny Detectives' will give children a chance to delve into imaginative tales of trees, spiders, stars, koala bears and more. How exciting is this! Happy Readers will carry books by Cressida Cowell!
The stories answer many questions that young minds carry. It's a fun way to draw the young ones back to the beautiful world of books that answer their questions in exciting ways! Happy meal story books can turn McDonald's family meals into story time moments to cherish.
So, the next time you plan for a McDonald's dine in and choose to place a request for Happy Meals at McDonald's, remember, you're going to get not just wholesome meals but many stories to imagine and bring alive. You have the option to choose from the two books when buying a Happy Meal at McDonald's stores. McDonald's Happy Readers, another act of happy is now available in the South and West region. We wish families more happy times together!