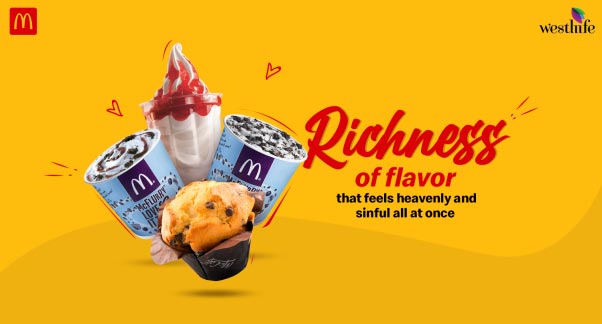 Dessert cravings don't come with warnings. They don't need any rhyme or reason to reach you. This is a serious need, which if not met can turn your mood upside down, something that's risky for all those around you. A regular sugar fix is always needed. And hold on, any kind of sweetness will not do; it has to be the right amount of sugar, the skillful flavor, and the perfect texture. McDonald's delivers this with absolute finesse. The McDonald's McFlurry with oreo cookies is a delicious example! The McDonald's menu has desserts beautifully crafted and overloaded with yumminess that you will surely be lovin'.
Desserts after a meal are always appreciated, but desserts at any time are always welcome. The dose of dopamine in the cups and glasses filled with McDonald's desserts feel like heaven on days when you had a not-so-yummy meal, are dead-tired after meeting those stressful deadlines, coping with the awful climax of your favorite TV show, or a spat with your bestie. No matter the mood, desserts are always there to make your day!
So, when the sweet tooth calls, you must respond to it with the very best of desserts. Let us take you on a journey of wholesome sweetness that you can't help but crave to turn that frown upside down.
Swirls of cool softness on those particularly hot days,
A spoonful of this only calls for praise!
The McFlurry mania won't ever stop.
When it comes to desserts, it's a mic drop!
McFlurry Oreo
Black Forest McFlurry
If you're feeling low or feeling down,
Come over because it is crazy good here in banana town!
Banana Caramel Sundae
McFlurry Banana Caramel Oreo
When it is chilly, rainy, or cold,
This warm sweetness is awesome, even to just hold!
Soft Serve Hot Fudge
Brownie Hot Fudge
A tasteful treat fresh from the oven,
Care to try a fluffy muffin?
Vanilla Chocolate Muffin
Chocolate Chip Muffin
Each scoop and swirl of McDonald's desserts soothes your taste buds with complete perfection. You won't believe it unless you try it, so what are you waiting for? You will find very appealing and delicious deals on the McDonald's app. Satiate your sugar cravings at your closest McDonald's outlet or from the comfort of your home with the McDelivery app or McDelivery website.