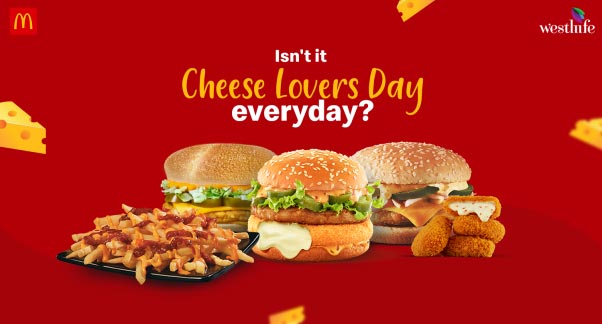 The mantra of every cheese lover is that the only thing better than cheese is more cheese. Well, everything is fair in love and war, and this deep love is simply unmatched! And you know what, here at McDonald's, we not only understand this sentiment but also bring it to life. When all you can see is cheese, you should definitely take a look at the McDonald's menu. It tick marks your cheeselicious cravings like no other! Everyone knows that a McDonald's cheese burger is to die for; yes, it tastes that good. There are so many options that bring in the cheesy element. There are different ways to do justice to this creamy delicacy and also make your senses go "para-pap-pa."
Recognizing this true, pure love of cheese, there is an entire day dedicated to it. The 20th of January is National Cheese Lovers Day! Look, you have found another reason to devour your favorite cheesy meal. And McDonald's is right around the corner to give you just that. Just take a look!
For the cheese lovers who have big hearts and love a McDonald's cheese burger endlessly:
McCheese Burger® Veg
McCheese Burger® Chicken
Triple Cheese Veg Burger
Triple Cheese Chicken Burger
For the cheese lovers who love a McDonald's cheese burger mixed with other flavors:
Corn & Cheese Burger
Grilled Chicken & Cheese Burger
For the cheese lovers who love spicing it up every now and then:
McSpicy™ Premium Veg Burger
McSpicy™ Premium Chicken Burger
Nothing pleases the tastebuds like melted cheese, so you must try this new McDonald's snack:
Cheesy Veg Nuggets
A pocket-size pizza with tons of mozzarella! Isn't that a snippet from the dreamland of cheese lovers?
Veg Pizza McPuff®
Ah, the magic that happens when the world's favorite fries combine with the world's favorite dairy product and a rich South American flavor to deliver this delight:
Mexican cheesy Fries
An extra dose of cheese can't do your meal any harm, so feel free to munch on it with this dip:
Classic Cheesy Dip
A meal can never get too cheesy to handle. The more, the better, right? So what is your pick going to be—the Triple Cheese American Chicken Burger, the Grilled Chicken Cheese Burger, or the McCheese Chicken Burger? In any case, drop by your nearest McDonald's outlet to enjoy a delicious, cheese-filled meal. Or, you can relish it from the comfort of your home by ordering in from the McDelivery® app or McDelivery® website. If you haven't downloaded the McDonald's app, you must. It always has offers and deals you do not want to miss out on.
Happy Cheese Lovers Day!