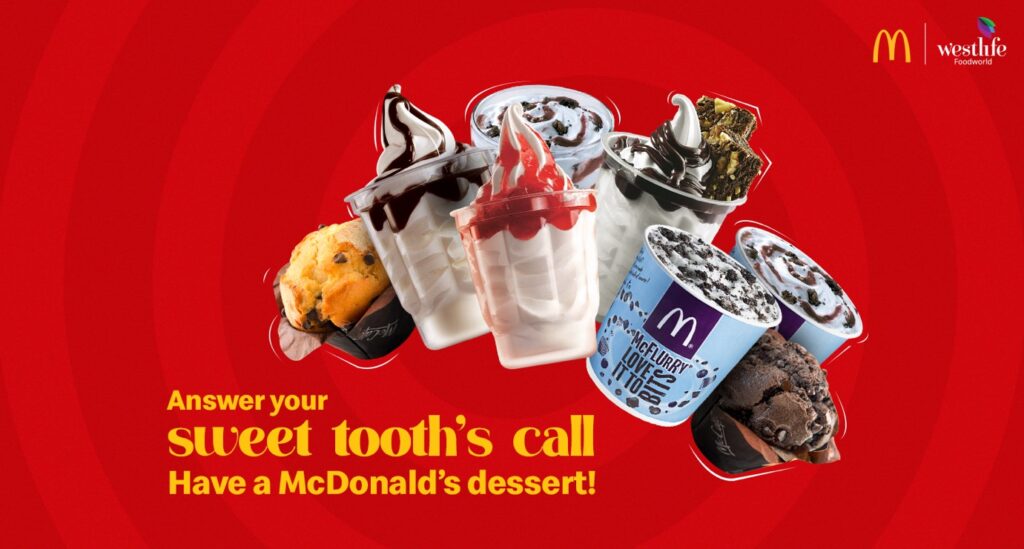 There are no seasons for having a sweet tooth. It is all year long, and deeply consuming. Ideally, every meal should be topped off with a rich, melt in your mouth dessert. Even traditions state that good news and celebrations are almost always marked with something sweet in your mouth.
Be it a special occasion or just a late night craving that just won't go away, McDonald's has got your back. Everybody knows this, no meal is complete without a bite of something sweet. But then again, which one of us can stop at just a bite. It doesn't hurt to take it easy at times.
People have loved McDonald's desserts for years and why wouldn't they. With no shortage of options, there's a dessert for every mood and occasion. Have you finally passed your exams with flying colors? It's better to give a treat to your friends before they start pestering you.
The McFlurry is a delight, both in its taste and texture. The McFlurry Oreo combines the crunchiness of the crumbled oreo with the yummy and creamy soft serve. It comes in small and medium sizes.
Another one that stands out is the Black Forest McFlurry Medium, which unbelievably tastes like a Black Forest Pastry, blended with a velvety smooth soft serve.
The soft serve ice cream comes in three options, strawberry, brownie, and hot fudge. The soft serve flavours are wonderful and have their own set of fans. The vanilla soft serve ice cream is the mainstay in these desserts and mixes excellently well with the twirls of strawberry and gooey, hot chocolate fudge that draws you in with its richness. The brownie hot fudge has small, cut up pieces of scrumptious brownie mixed in with the vanilla soft serve.
Also a part of the McDonald's desserts are the muffins. The muffins, chocolate chip and vanilla chocolate flavored, are fluffy with a sweet core in the center. They seem to go very well with the breakfast options at McDonald's. You should definitely try the vanilla chocolate muffin with a hot cuppa coffee. It's the muffin that people can't seem to get enough of! Whenever your sweet tooth starts acting up, it's time to get to a McDonald's near you. Enjoy McDonald's desserts like the soft serve ice cream and the muffins. You can also order from the McDelivery® app or the McDelivery® website. For deals and discounts on the countless soft serve flavours, download the McDonald's app.