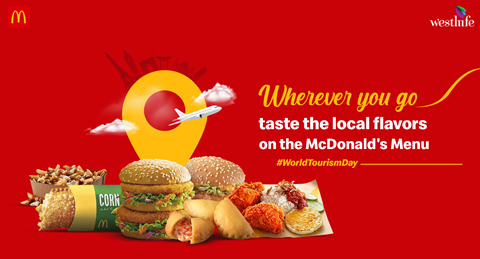 Food is such a wonderful way to know a place, its history and culture. It undoubtedly brings out the flavors of the soil in the best ways possible. Local flavors give away so much about the culture, people and their zest for life.
Have you woken up to the sound of sizzling spices in a pan? The aroma of robust freshness that fills your senses and has your mouth watering? The ingredients used in preparing regular, everyday food not only bring flavor to the meal but also to our lives. Special occasions are also remembered by the flavors of their feasts. Seasons are remembered for the sweet and sour brought by their fruits. McDonald's India has always been very fond of the tastes and preferences of the Indian palate. But were you aware that McDonald's is also in touch with the palate of the rest of the world? Wherever you go, there's something local and flavorful on the McDonal'd menu. This World Tourism Day, we are celebrating some of the special local flavors available on the McDonald's menu from different places.
Let's dine- sorry, dive into what tales are cooking in kitchens across the globe!
Poutine is a routine at the Canadian food scene!
Poutine is the unofficial official national food and McDonald's Canada has gladly embraced it, and rightfully so. The core elements are cheese curds, gravy, and french fries! And everyone knows that McDonald's holds fries in the highest regard!
This popular South Korean food is loved no matter what the mood!
Where are the K-pop and K-drama fans at? All the Korean lovers must have definitely heard of Bulgogi! The word literally means "fire meat" and is made of thinly sliced, marinated meat that's roasted or grilled. Now imagine it as a burger with a marinated patty layered with Bulgogi sauce, melted cheese, mayo, and lettuce!
Panzerotti- A pretty name that's pretty delicious too!
Panzerotti is a savory pie that's filled and fried. Think of them as mini fried pizzas. McDonald's Italy couldn't help but include this delightful *chef's kiss* delicacy. The mozzarella and rich tomatoes waiting to ooze from the fried dough simply make you go mammamia, I'm lovin' it!
The magic made in Malaysia
Let's look at another beloved national dish! Nasi Lemak is quite popular throughout Malaysia and is also available at McDonald's Malaysia. The rice is cooked in coconut milk and pandan leaf and is given to devour with fried anchovies, cucumber, a fried or boiled egg, spicy sambal, and fried chicken. It's also available as a Nasi Lemak Burger.
The M in McDonald's stands for Masaledar!
When it comes to flavors, the Desis have lots to offer! McAloo Tikki Burger, McVeggie Burger, and Maharaja Macs—the truly Indian McDonald's burgers are a rage in the country. And, the new Chatpata mix is just sky-rocketing the flavor charts. The next time you're overseas, do check out their McDonald's outlet and get a taste of their culture! As far as India is concerned, you know the drill. For a deliciously awesome time, dine-in at a McDonald's restaurant; you can also order in from the McDelivery app or McDelivery website. Also, stay in touch with the McDonald's app for yummy McDonald's offers and value meals.