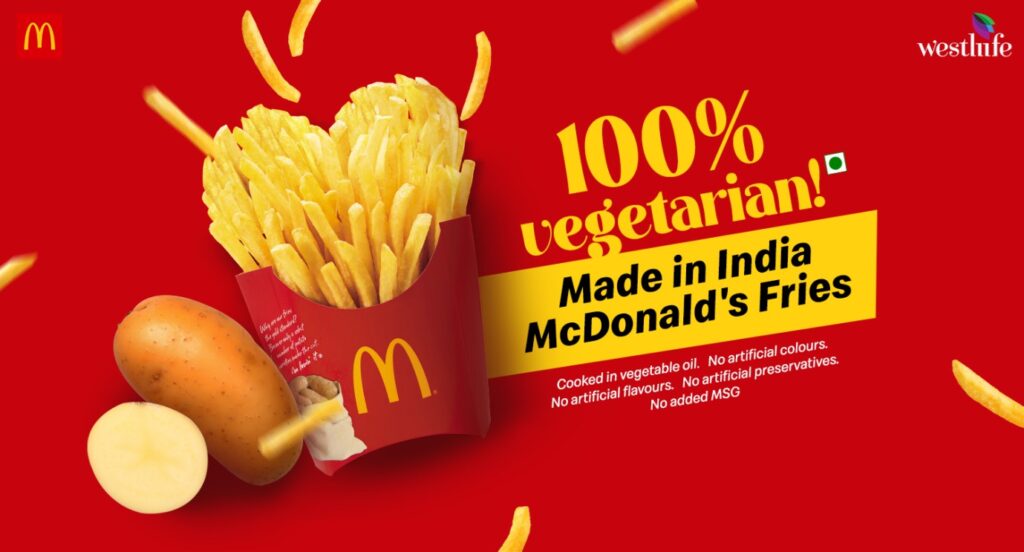 Fries are so many people's favourite food. In fact, many call it their comfort food. It is the go-to food in times of celebration and no celebration. Sometimes, McDonald's Fries are a celebration in themselves. And for so many people in India, it was McDonald's that introduced the concept of Fries, way back in 1996. Our made in India Fries are 100% vegetarian, made from high-quality potatoes that are cooked to perfection with vegetable oil only.
Lately, there has been a conversation online about McDonald's India using beef oil or beef flavoured oil to cook its fries. We are here to let you know that it is a misconception. McDonald's India has always been aware of and sensitive to the sentiments of the local customer base. We pay attention to every detail, both big and small. Food choices are often tied to personal beliefs, which we are respectful towards. So, let's set the record straight. We do not use beef oil. We use only vegetable oil and there is no flavour added to our fries or oil. As a matter of fact, no type of animal-based oil enters our kitchens. Fries also happen to be part of our Real Food Real Good menu, which comes with no added MSG, no artificial flavours, no artificial colours and no artificial preservatives.
The Indian preference is our top priority, and you will see it reflect in our menu. The burgers cater to the Indian palate, with popular examples like the McAloo Tikki Burger. We meticulously maintain separate kitchens for vegetarian and non-vegetarian preparations in all our stores. Each chicken burger has a vegetarian counterpart. We take great care to make sure that meals at McDonald's are the very best. We ensure that every ingredient passes a quality check. We are also steadfast in our hygiene and sanitation practices. We provide Nutrition and Allergen Information for each menu item. At every step, we strive to give you an experience that you will love.
We understand your concerns, and you need to know what you are consuming. So, once again, your favourite Made in India McDonald's Fries are all vegetarian, and for the record, it is since 1996 that we have been serving vegetarian products that are 100% vegetarian. Rest assured, and enjoy your meal without a worry. Use this moment of truth as a celebration. Stop by your nearest McDonald's restaurant, or order in from the McDelivery® app or the McDelivery® website. For deals as yummy as your meals, download the McDonald's app.