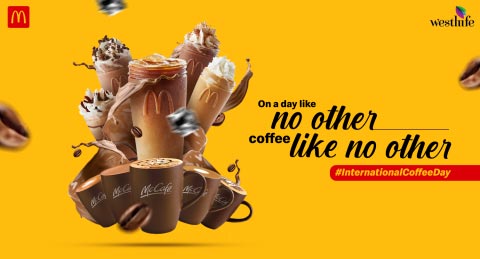 Well begun is half done, and for many, their day begins with a delicious, aromatic, hot cup of coffee. It is not just a drink; it is an art and also a science. Don't you agree? It is getting the quality of ingredients, their perfect quantities, the technique, the temperature, and ultimately the flavor, and many times, even the company. You know, there is a place in town that delivers all this down to the T. Yes, you have guessed it correctly; it is McDonald's very own McCafé! If you have not tried McDonald's coffee options, you must know that they are blended and brewed to absolute perfection.
The McCafé coffee menu is made from 100% pure arabica beans, handpicked from the estates in dewy Chikmagalur for your complete satisfaction and delight. The beans are then perfectly roasted to bring out an intense, opulent flavor that is unmatched. The ingredients are genuine and premier to ensure a culinary treat like no other. They are shown in a transparent way because we believe that you deserve to know what is inside your coffee. Only the very best for our valued customers. Did you know that October 1 marks International Coffee Day? Do celebrate it with an amazing cup of coffee.
You probably know someone who is a very passionate coffee enthusiast, or perhaps you are that person. In any case, you must have heard some interesting opinions when it comes to coffee and might have even uttered a few of them!
"That coffee machine is my one true love."
Now, why wouldn't it be? Especially if it is the McCafé Latte!
"Coffee has never disappointed me, ever."
Truer words could not have been spoken, just like how McCafé's Cappuccino cannot be matched!
"Hold on before talking to me. I haven't had my cup of coffee yet."
Every sip of coffee is like turning on a knob that generates energy in the body. A McCafé Americano is always a great choice to start your day with.
"Where's my coffee? HAS ANYONE SEEN MY COFFEE!!???"
Pearls of wisdom: Never mess with someone who hasn't had their coffee yet. Rather, serve them a cup of McCafé Mocha.
"Decaf? How dare you utter that word around me!"
Decaf is a daring decision. Be careful who you offer it to. Keep things cool and enjoy McDonald's cold coffee, the McCafé-Ice Coffee.
You can get your caffeine fix, both piping hot and icy cold, at a McDonald's restaurant. There are always delicious offers and deals on the McDonald's app. Do check it out. These refreshing, rejuvenating drinks are also available to order from the McDelivery app or McDelivery website.