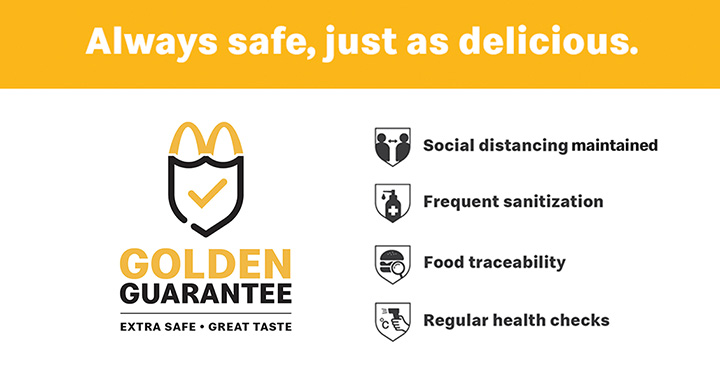 Food hygiene and safety have been the hallmark of McDonald's business since its inception. With the world grappling with an unprecedented health crisis, these practices have taken an even greater meaning for us.
We totally understand if you have become extra cautious while eating out. To uphold your trust, we bring our Golden Guarantee, as a part of which we have elevated our already world-class safety and hygiene practices across delivery, take-out, drive-thru, and dine-in service platforms. Golden Guarantee is our promise to ensure that all our customers and employees will be extra safe, every step of the way.
A super aware team
Nothing beats the combined efforts of a team that knows what it is doing. Our team members have been following stringent safety measures; they are gloved and masked at all times, and they maintain social distancing throughout their shifts. Arogya Setu app is compulsory for them and they wash their hands for 20 seconds every hour. All this was achieved through rigorous training and lessons on safety precautions in the wake of COVID-19, which the team received early on.
Delivering meals, safely
Every little measure makes a big difference when it comes to delivering meals safely to you. Your food is carefully sealed with a tape to prevent any contamination. The riders stand in designated socially distanced spots as they collect the orders. They do not just sanitize their hands before collecting orders, but also their bags. Additionally, only online payments are accepted for online deliveries to ensure extra safety. Overall, it is a truly Contactless Delivery.
Dine-in made safe and comfortable
If you have been keeping up with our news and blog posts, you must be aware that some of McDonald's India restaurants in South and West cities are now operating dine-ins as well. And if you happened to visit our restaurants one of these days, you must have noticed quite a few changes. Every customer has to go through a temperature check. You must have noticed frequent sanitization of surfaces and the alternate seating arrangement. All these and more measures are there to ensure that the promise of Golden Guarantee is delivered with every single order.
So, if you have been feeling like having a quick bite at your favorite McDonald's restaurant, we ensure you that you will have a comfortable and safe dine-in experience. Like you, we also believe that being careful and vigilant is the only way to come out of the pandemic stronger and better.