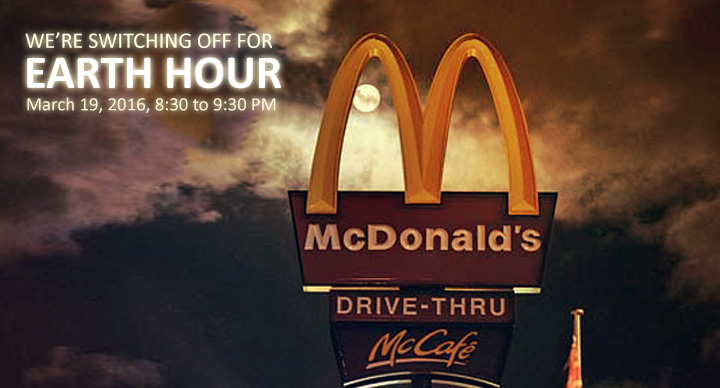 What was common between Big Ben, Hong Kong's Skyline, the Sydney Harbour Bridge and Mumbai's McDonald's restaurants on March 27 last year?
They all had their lights off between 8:30 and 9:30 pm.
This year, the Earth Hour will be observed on 19 March. It all started in Sydney, Australia in 2007 when about 2.2 million homes and businesses turned their lights off to bring attention to growing climate change. A grassroot movement that inspires millions of people to switch off their lights, Earth Hour is gaining more popularity with every passing year.
Since 2009, Westlife Development Limited subsidiary Hardcastle Restaurants Pvt. Ltd. (HRPL) led McDonald's India- West and South has pledged to support this cause. This year, over 150 McDonald's restaurants from Madhya Pradesh, Gujarat, Kerala, Karnataka, Tamil Nadu, Telangana and Chhattisgarh will be pitching in. Mumbai alone will have a whopping 53 restaurants participating.
"Climate change is one of the most pressing issues today and we at McDonald's are committed to take tangible climate action and build a sustainable future for our planet and future generations. This is the seventh year in a row that we have supported WWF's Earth Hour campaign, which started in Sydney, Australia in 2007. We've reached out to hundreds of millions of people by encouraging our customers to make year-round energy saving pledges as part of Earth Hour observances. As part of our good neighbor initiatives, we will continue to champion programs which benefit the communities where we operate in," said Mr. Ranjit Paliath, Vice President – Business Operations, McDonald's India (West & South).
On 19 March, everything will be business as usual, except between 8:30 and 9:30 p.m., customers will see dimmed golden arches and candle lights at McDonald's restaurants.
See you all this Saturday over candle light dinners.