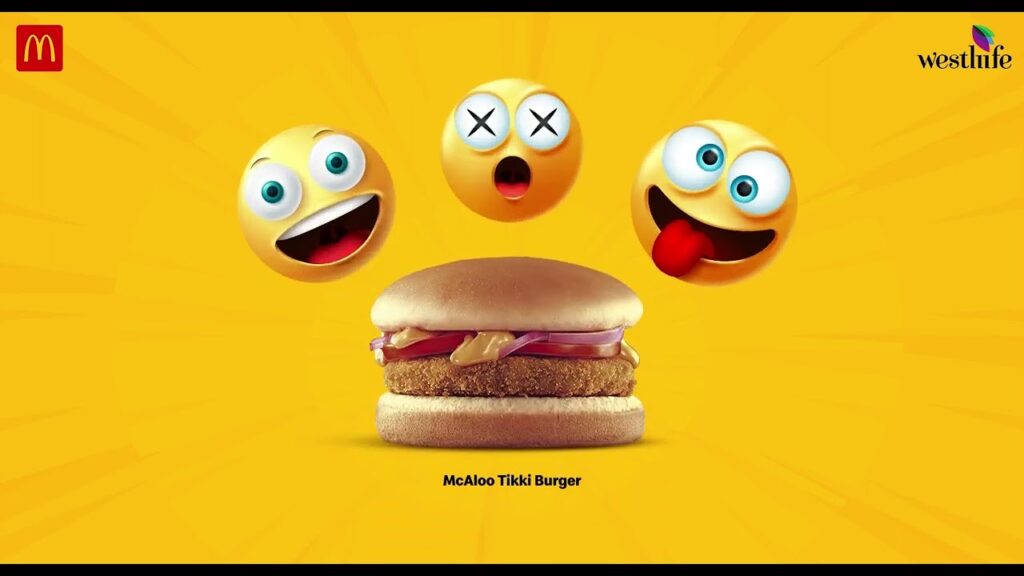 Expressing through emojis is just so awesome! It's a fun way to interact, and express so many feelings through interesting colorful icons. For World Emoji Day, here's a thought, which emoji comes to your mind when you see, think, or even take the first bite of your favorite McDonald's burger?
Be it the go-to McChicken burger, Filet-O-Fish, McVeggie burger, McSpicy Chicken Burger, Maharaja Mac, Chef's Special Gourmet Burgers or any other item on the McDonald's India Menu, what would be your preferred choice of emoji?
Is it the heart-eyed, drooly, bright smile, eyes wide open, thumbs up, full heart emoji or something else that is unique? Well, one thing is for sure, it's all happiness, love and fun!
We've picked a few of our McDonald's Burgers and have lined up some cool emojis. Take a look, maybe we've guessed your emoji expression right?! If you have some other emojis to add to this list, feel free to drop your emoji of choice for your favorite McDonald's Burger/ Burgers in the comment below. We are waiting to see them…
McVeggie Burger: 😍💗👀👌
The almost everyone's favorite, patty packed with veggies, smeared with mayonnaise, fresh lettuce and yummy Indian spices is all heart, don't you think?
McSpicy Premium Chicken Burger:
👍😍😃
The spice enthusiasts' favorite, McSpicy Premium Chicken Burger is all things fresh and delicious with an indulgent spicy chicken patty, shreds of crunchy lettuce topped with Jalapenos and a fine slice of cheese. The sauces that add flavor to this McDonald's Burger are Spicy Habanero and Cheese Sauce. And just so that your spicy-yummy experience is amazing from the get-go, it's toasted Whole Wheat Buns that hold it all together!
McChicken: 😋😍😘💓
That simple and classic burger carries a tender and juicy chicken patty cooked to soft perfection. Adding to the yummy experience are the creamy mayonnaise and crunchy lettuce that complete this McDonald's Burger.
Triple Cheese American Veg Burger: 🌟🎊😋😍😃
The soul-satisfying, cheesy Chef's Special Gourmet Burger, the Triple Cheese American Veg Burger is a cheeseburger fan's dream come true. The crunchy corn patty filled with cheese makes it a memorable gorging experience. The flavors of Jalapenos, shredded lettuce and more cheese layered between the goodness of whole wheat buns make it nothing less than art on your plate!
Veg Maharaja Mac: 😍❤😋😁💥
Ravenous hunger anyone? The answer to that question is Maharaja Mac! It's one of the tallest burgers on the McDonald's India Menu. Witness perfection in the crisp fried corn and cheese patty paired with fresh ingredients like Jalapenos, onion, a slice of cheese & crunchy lettuce dressed with cocktail sauce. Indulgent flavors in every bite!
Now if all the yumminess is making you crave McDonald's burgers right now, and you're all heart for your favorite one, then even before you think about the emoji, maybe it's time to order your burger on the McDelivery website or McDelivery app, and keep the happy vibes going strong!