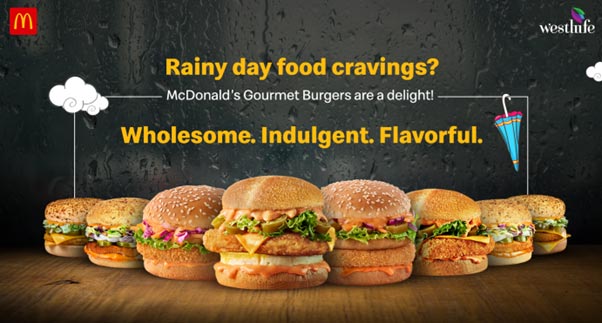 Pitter-patter raindrops bring with them hunger cravings of different kinds. The want to eat something warm, something flavorful and spicy, oozing cheesy indulgences and whatnot! For days when the tastebuds are tingling towards something flavorful, indulgent and wholesome, look no further. The McDonald's Chef Special Gourmet Burger Collection is the answer to the monsoon hunger cravings. And for days where you'd want to sip on a hot beverage like a steaming hot cup of McDonald's coffee, tea or chocolate, that's on the menu too!
Talking burgers, what would rather choose? A soul-satisfying spicy burger or the melty, cheesy indulgence. If you are with friends, colleagues and family, maybe you could have the best of all worlds(?) A bite here, two there, and you've got the best of McDonald's flavors without worrying about food choices, isn't it?
Well, if you'd like a wholesome McDonald's gourmet burger to indulge in by yourself, you'd rather call for one of your favorites.
Spicy Burger fans look out!
Starting with the toasted whole wheat buns, it's the flavorful sauces that playfully tease the tastebuds while adding richness to the texture and taste. The velvety cocktail sauce and the habanero sauce accompanied with creamy cheesy sauce is what helps in satisfying the flavorful cravings. Add to this, the fresh and earthy jalapenos, crunchy lettuce and the slice of cheese with the patty of your liking: spicy paneer or chicken makes sure every bite is worth the spicy indulgence! And for those choosing McSpicy Premium Chicken Burger, there's an addition of steamed egg patty to complete the wholesomeness.
McSpicy Premium Veg Burger
McSpicy Premium Chicken Burger
Cheesy Burger fans these ones are for you!
The Cheese Lava American burger affair starts with freshly toasted sesame buns, where the roasted chipotle sauce lends the unique flavor along with the crunchy onion shreds. The fresh jalapenos and salad mix add the freshness to the McDonald's Cheese lava American burgers. When talking about the Triple Cheese American Veg Burger, it is the crunchy corn patty filled with cheese, topped with jalapenos, shredded fresh lettuce and more cheese, that satisfies the foodie. When choosing the Triple Cheese American Chicken Burger, it is a chicken patty filled with cheese that is at the core of the burger.
Triple Cheese American Veg Burger
Triple Cheese American Chicken Burger
Cheese Lava American Veg Burger
Cheese Lava American Chicken Burger
Now that you know the flavorful and fresh ingredients and sauces, choose your burger well. Make a dash to the nearest McDonald's restaurant or call in for your favorite McDonald's Gourmet Burger through the McDelivery website or app. What's it going to be… Triple Cheese American Veg burger, Chicken Burger or McSpicy Premium Veg Burger?