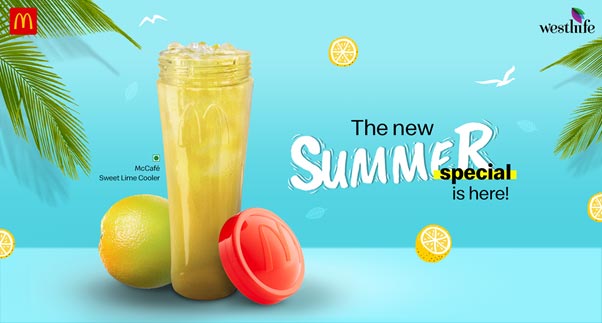 Anything to beat the scorching heat, right? Chilled McDonald's beverages are the go-to drinks this season, and why wouldn't they be when temperatures are soaring, taste buds and thirst longing for refreshing chilled drinks. Quench your thirst with McDonald's drinks this summer. The McCafé Beverage Menu has got many refreshing options lined up for you. The latest one to hit the McDonald's India menu is the McCafé Sweet Lime Cooler.
The citrusy chilled drink refuels the system, and gives the kind of refreshment much needed for this season. It's cool, sweet, teasing with flavors of sweet lime at the kind of chilled temperature that's perfect to ease out the summer fatigue.
Being outdoors isn't easy in this heat, and if work or play has you scouting the streets, let's suggest the new McCafé Sweet Lime Cooler for a chilled break. When indoors, and if you are wishing for a chilled beverage to go alongside your busy schedule or for work break moments or just a summer afternoon refresher, here's a sweet lime, citrusy flavorful delight to accompany you.
If you are going for light McDonald's bites and would like a citrusy drink to sip on, the newbie cooler is the perfect option. In case you are looking to try a new flavor to go with the indulgent McDonald's burgers, fries, nuggets or wrap, here's another McDonald's cooler for the chill vibes.
Before we miss out on another awesome bit, when ordering in the McCafé Sweet Lime Cooler, be ready to experience the invigorating delight in the new EZ Reusable bottles. Super convenient and user-friendly bottles. Can't wait any longer to taste the summer delight, we say, don't! Step in to the nearest McDonald's restaurant or order in from the McDelivery website or app and enjoy the sweet-citrusy-chilled drink for the sweltering season.