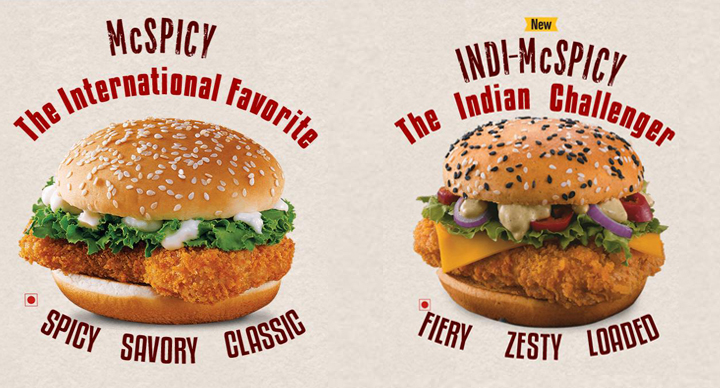 About two weeks into Battle of Spicy it's time to take a quick view at which burger are people liking more – the old and bold McSpicy or the new and zingy Indi McSpicy. Here's what people are saying.
Mini Ribiero seems to have developed a liking for the Indi McSpicy. Upon trying out the paneer variant she says, "Distinct flavor of Indian spices. I can actually taste cinnamon, cardamom, star anise, and many more spices. It's the most flavorful bun I have ever had and frankly even aromatic. I must say it's a very, very exciting amalgamation of Indian spices into a bun for a burger. Absolutely first of its kind! It can't get any more Indian and spicier…I am waiting and enjoy the chicken one next time." Here's her full review video from her YouTube channel Mini's Food Fundas.
Mini may have liked spicy amplifications on the new Indi McSpicy, but there are some McSpicy loyalists too. Mary Joseph from Bangalore says, "So my friends and I tried both the spicy burgers. Honestly, I like the old McSpicy burger better. The best is the awesome chicken patty; crisp on the outside and tender inside, with a hearty dash of spices. It lets you enjoy a great meal without overpowering your palate. So I'm definitely going to vote for this one."
But ever wondered why Indians are addicted to spices? Aishani Parera from Thane answers it succinctly, "I love all things spicy. It does not necessarily have to be a mix of many kinds of spices, but the flavor of chilies with a hint of pepper and ginger works perfectly for me. While other burgers at McDonald's can't be called spicy, the McSpicy Chicken does justice to the name I think. The spice quotient is just about right. I love the taste it leaves in my mouth after I finish the burger. It is actually the taste of wanting another one!"
However, there are some who believe that Indi McSpicy is the evolved form of the earlier version and hence, better. Parth Mawty explains, "McDonald's has done heaps in the Indian market to make their fare more palatable for us. With the Indi-McSpicy, I think that after so many years they have finally hit the spot. Just like Pokemon, McDonald's burgers are gradually evolving over time and I guess they've finally reached their final form. The Indi-McSpicy is a beast of a burger.The spicy bun, the chilli sauce and to top it off the red peppers. The spice is strong with this one! Frankly speaking, this burger is the best example that McDonald's is listening to us. Absolutely lovin' it!"
And let's not forget about the new Mango chilly desserts, which are up for grabs along with both the burgers. Abhimanyu T. from Cochin has seemingly developed a great liking for the mango chilly soft serves. He says, "Hats off to McDonald's for creating the Indi McSpicy burgers and especially the mango chilly ice-creams. We don't get too many varieties of mangoes down south, so it's a pleasant change in taste. And it makes me nostalgic, reminds me of mango bite candies which my grandfather used to get for me from Mumbai. The flavors in the burgers are nice and punchy so I am sure Indi McSpicy gets my vote. The masala buns are epic and are perfect as an evening treat."
If you have made up your mind, vote to make your favorite burger stay on the menu.