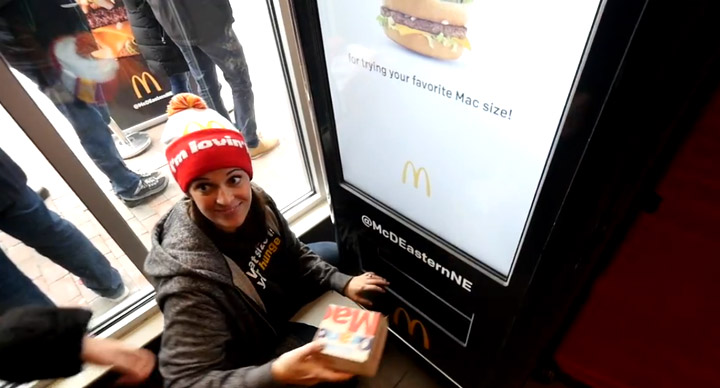 Imagine if, instead of currency, your favourite Maharaja Mac burger were to come out of the ATM instead! That's precisely what happened at an ATM in Boston, USA recently, when the original of the Maharaja Mac – the Big Mac – came out free from an ATM.
McDonald's Boston thrilled fans by giving out free Big Macs for an entire day!
The ATM, in consideration of varying appetites, dispensed Big Macs of different sizes – Big Mac Burger, Mac Jr and Grand Mac. So, when their turn came at the ATM, people could make their orders for their favourite Big Mac, which was received at the McDonald's at 540, Comm Ave, Kenmore Square.
"We can't give away all the secrets, but fresh Macs will be constantly loaded into the machine to ensure a high-quality experience," was all Vincent Spadea, franchisee of the Boston McDonald's, would say.
Now that life is limping back on track back home, how about a Maharaja Mac treat at the ATM?