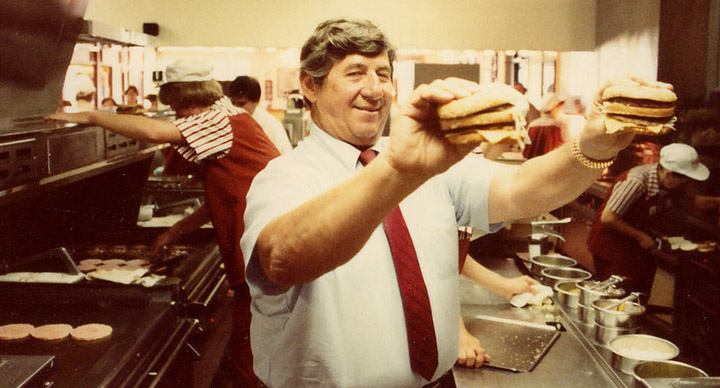 It feels like the end of an era. Michael James ("Jim") Delligatti, the man who created the signature Big Mac burger for McDonald's, recently died at age 98. When he had touched the 90th milestone on 21 August 2008, there was a cake for him in the shape of the Big Mac.
Delligatti was among the original franchisees of McDonald's, and operated many restaurants in Pittsburgh, USA. His creation – The Big Mac – undoubtedly, ranks among the world's greatest sandwiches. Today McDonald's sells about 900 million Big Macs a year, in over 100 countries worldwide.
Delligatti came up with the idea of the Big Mac burger simply because he wanted to create a "bigger" burger. He began tinkering with the burger at his restaurant in the mid-1960s. At first, he added a second burger and six other ingredients. But it wasn't until two years later that he had created the Big Mac. He had taken three buns, the top bun a sesame seed bun, with two beef patties sandwiched between the three buns, and garnished it with a special sauce, fresh lettuce, slices of cheese, onions and pickles. Viola! The Big Mac was born!
At first, the master franchise McDonald's wasn't too keen to offer this new over-sized burger, because its staple of hamburgers, cheeseburgers, fries and shakes were already selling like hot cakes. But when the restaurant allowed Delligatti to introduce the Big Mac, it became such an instant hit that by the following year, it was being offered at all Golden Arches across the US. In fact, McDonald's USA hasn't changed the Big Mac recipe since 1967.
According to his son, Delligatti himself ate at least one Big Mac a week.
Delligatti went on to own 48 McDonald's restaurants in western Pennsylvania, making him one of the company's largest franchise holders."Jim was a legendary franchisee within McDonald's system who made a lasting impression on our brand," McDonald's said in a statement.
Not just the Big Mac, Delligatti was also the brain behind the introduction of the breakfast service at McDonald's. In a Good Samaritan act, Delligatti developed the hotcakes-and-sausage meal so as to feed hungry workers on their way home after a night shifts in the steel mills nearby.
Indian Big Macs
In India, McDonald's (West & South) is offering the Big Mac in two versions. There's the Chicken Maharaja Mac – a combination of a delicious chicken double patty, with rich habanero sauce, fiery jalapenos, juicy tomatoes and crunchy shredded onions, placed on cheddar cheese and a bed of iceberg lettuce – for non-vegetarians, and the Veg Maharaja Mac – a delicious concoction of double patties with fine cheese slices, fiery jalapenos and crunchy onions, placed on a bed of fresh lettuce with cheese and corn, with a topping of smooth, exotic sauces – for vegetarians.
Read the full story here.